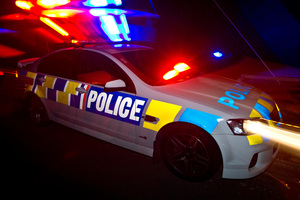 A drunk and high motorist driving a stolen car that crashed into another vehicle, killing a mother-of-four instantly, has been jailed for nearly five years.
Jordan Hyde was sentenced in the High Court at Wellington today after earlier pleading guilty to manslaughter, driving drunk causing injury, and stealing a vehicle.
Justice Ronald Young said on the evening of the crash, Hyde should never have been on the road because he had a suspended licence after two previous drunk driving convictions.
The crash happened on State Highway 1, just north of Paekakariki on the Kapiti Coast, about 10pm on February 13, last year.
Hyde had been drinking and smoking cannabis at a friend's house in Paekakariki, but became aggressive and was asked to leave.
He found an unlocked station wagon nearby with the key in its ignition.
After stealing the car, Hyde drove around the town and crashed into a roundabout, resulting in two tyres blowing out.
Justice Young said Hyde drove recklessly and continued to drive knowing the car had two flat tyres, making a serious crash "inevitable".
After driving for about five minutes north on the state highway, Hyde's car crossed the centre line and crashed into a vehicle carrying 28-year-old Stacey Rewiti.
She was killed on impact, Justice Young said.
A large group of Ms Rewiti's friends and family had packed into the public gallery for sentencing today, some holding photographs of the young mum.
During the hearing, Hyde stood with a jumper pulled up over his mouth.
Ms Reweti's father Paul Reweti read an emotional victim impact statement and held his daughter's wooden 21st birthday key with her photo on it.
He told the court the day his daughter died was the worst day of his life.
"Stacey was everything to us."
Her death had changed their whakapapa, he said.
"That day changed the world as we know it forever."
Hyde was sentenced to four years and eight months imprisonment for manslaughter. He was also sentenced to six months jail for stealing a vehicle and 18 months jail for driving unlawfully, with all sentences to be served concurrently.
Justice Young also disqualified Hyde from driving for 10 years.
"It is in the interests of the safety of the community that you stay off the roads,'' he said.
- APNZ