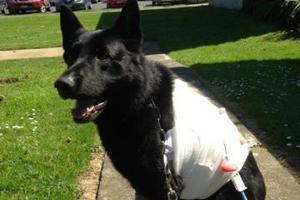 A police dog which suffered a punctured lung after being stabbed during an Armed Offenders Squad call-out near Whangarei today has undergone successful surgery and is coping well.
Northland police dog Gus was protecting his handler when he was knifed during the incident west of Whangarei in the early hours of this morning, police said.
He was flown to Auckland with his handler for emergency veterinary treatment, and is expected to survive his injuries.
Police said Gus was doing well and will be monitored over the next 24 hours to see how he responds to treatment.
Following his surgery, Gus was let out for a short walk at the vet clinic in Carrington, Auckland.
His handler will remain with Gus has he continues his treatment.
Police thanked the staff at the vet clinic for their care and treatment of Gus, and members of the public for "heartening'' messages of support.
Northland police were called to an address in Parakao late yesterday afternoon after reports of a 37-year-old man in an agitated state carrying a knife and possibly a gun.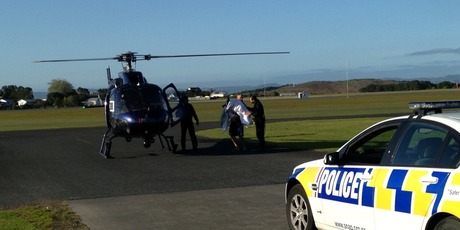 When police and the Armed Offenders Squad (AOS) surrounded the property the stole a quad bike from a nearby house and made off, police said. He later ran on foot after police gave chase.
AOS and the police dog handler tracked the man through thick bush, finally locating him around 4am, police said.
The man then allegedly attacked, first stabbing Gus and then attempting to stab his handler.
A struggle ensued before police managed to subdue and arrest the man.
A 37-year-old man was charged with aggravated assault on a police officer, attempting to kill a police dog, unlawfully taking a motor vehicle and assault with a weapon. The charges were laid at a special hearing at the Whangarei Hospital.
The arrested man has been remanded in custody for a psychiatric report and will appear in the Whangarei District Court on October 14.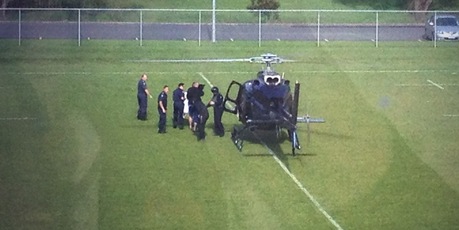 Whangarei/Kaipara area commander Inspector Tracy Philips said staff were faced with a dangerous and fluid situation with an unpredictable offender.
"We had to track him across some difficult terrain in the dark,'' she said. "After Gus was stabbed, his handler and another officer had to carry him out through heavy bush and steep hills for more than a kilometre.''
Ms Phillips said the dog's bravery had saved officers from serious injury.
The AOS dog was trained to protect his handler, she said.
"He did just that and has paid the price, but thankfully he has survived,'' she said.
"Gus is very much a part of our police family and we feel for the dog handler who has witnessed his dog getting seriously injured.''
- APNZ