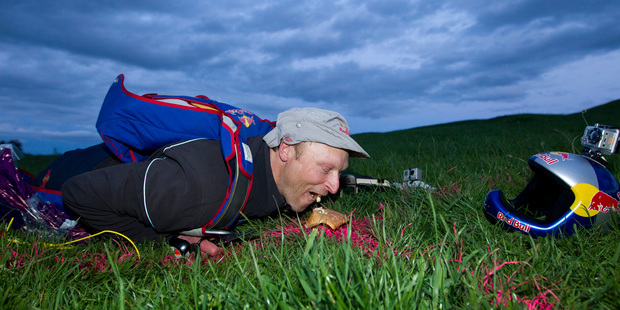 An 'earth sandwich' in Hawke's Bay and a window-smashing spree in Masterton are just two of the stories making headlines around the regions today.
A Hawke's Bay skydiver and his counterpart in Spain have just completed the world's first 'earth sandwich'.
A mental health patient went on a window-smashing rampage in Masterton over the weekend.
Tauranga residents are outraged at council plans to spray a local 'fairyland' of flowers.
Business is booming for Hawke's Bay sex shops trading in legal highs.
Northland police are hunting for a pair of armed robbers who fled after holding up a security van.
A scared Rotorua mum is calling for the police to better alert people when they're carrying out drills.
The bronze Hairy Maclary storybook statues could be a feature of Tauranga's downtown waterfront by Christmas.
In Wanganui, eight people were injured after a bus crashed into a ditch yesterday afternoon.
A logging truck driver stopped by police was found to be nearly double the legal alcohol limit for driving.
Hamilton Central is the first police station in New Zealand to install large UV lighting equipment.
Fire forced occupants of a central Dunedin boarding house into the street yesterday.
A Far North man has died after climbing a power pole to an 11,000 Volt transformer.
And finally, Erik ''The Lizardman'' Sprague is performing in Dunedin tonight.
Other stories making headlines around the regions today include:

Gallery visitors feeling unsafe
Children involved in online sex acts, court told.
Gail Bower case: Accused pleads guilty.
Fans stay strong at White Swan.
Kids face challenges to connect with police.