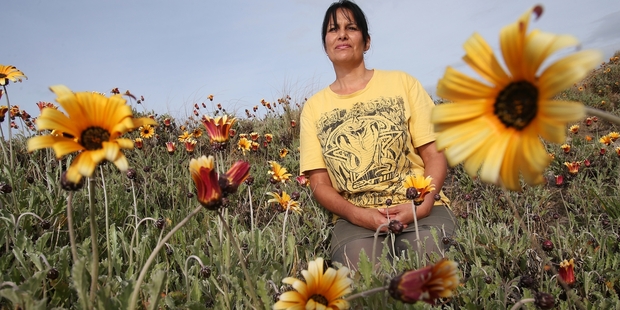 Residents are outraged at council plans to spray a dune area covered in flowers and replace them with native grasses as part of a restoration project.
Oceanbeach Rd resident Marcia Sayers learned about the Tauranga City Council's plan to spray the growth along the sand dunes between Girven Rd and Omanu Way and replace it with dune plants while talking to her neighbour, who was picking some of the flowers for her house.
"All the freesias have been out," she said. "I don't understand why they are doing it because there's flowers and grass and it looks really pretty. They say we've got to save the sand dunes but these are established plants. Kids go down and play in it because it looks like a little fairy land."
The council carried out a large amount of spraying last year but did not quite reach the area outside Ms Sayers' home.
"We had pheasants nesting and it killed them," she said. "They've already killed the pheasants and there are little silver eyes that fly around here.
Why spray it and kill the birds?
"It's going to go back to being sand and rushes whereas now there's flowers and shrubs."
When the council sprayed last year, beachside residents came out in rashes which Ms Sayers believed was due to the chemicals being blown around.
"It's a waste of time and a waste of money," she said. "It's really pretty. You can see where they sprayed last year and ruined it it's just sand and the tussocks. It's actually going to defeat the purpose of why they are doing it."
Fellow Oceanbeach Rd resident Janet Peters said she and her neighbours were "all in agreeance that we love our little bit of paradise".
"We love the flowers. The current foliage totally holds down the sand, because it's chocka. It's so beautiful."
Ms Peters said a bed of red aloe flowers had just given way to daisies and freesias and in summer she anticipated the return of pink geraniums.
A Tauranga City Council spokesman said it was part of the dune restoration programme which started in Papamoa about four years ago and had been slowly working its way along the beach.
He confirmed the area outside Ms Sayers property would be next in the programme.
Residents would receive letters informing them of the work about October, preparation would begin before Christmas and planting would be carried out next year, he said.
Other plants may appear to serve the same purpose but native grasses did a far better job, he said.
A council factsheet explained native sand binding grasses trap wind blown sand, rebuilding the dunes.
"When these native plants are absent or overtaken by weeds like agapanthus and ice plant, then much of the wind-borne sand is lost into the urban environment, the dunes are diminished and the natural buffer zone is compromised," the factsheet explained.
"Plants introduced from overseas can do very well in dunes, but these species have the tendency to dominate some of our valuable native species. More importantly, the root systems of native plants are much deeper and hold the dunes together more effectively than exotics."