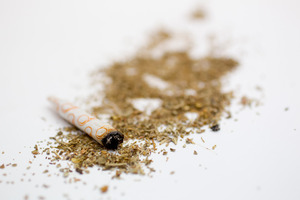 Business is booming for Hawke's Bay sex shops trading in legal highs, with queues of customers buying the product in the early mornings causing disruption and concern to nearby business owners.
Hastings mayor Lawrence Yule said he had been advised that $20,000 worth of synthetic cannabis products was sold over one weekend at a Hastings store.
Last Thursday Hawke's Bay Today witnessed 36 people enter the Hastings Adult Selections store between 8.09am and 9.09am.
"At the end of the day they are not doing anything illegal, but what has happened around New Zealand is community pressure has helped shut some of these stores down," Mr Yule said. "At the moment that seems to be the only option."
A neighbouring store owner said he was sick and tired of the number of people who gathered outside the store waiting to buy synthetic drugs in the mornings.
"I've seen people waiting in their cars, peering out the windows, their hands shaking, waiting for it to open.
Then when the store opens they go in, buy it, come back to their car, smoke it and just drive off."
A Napier businessman said he could not believe the sheer number of people waiting to buy their fix from Napier Adult Selections on Dickens St early yesterday morning.
"Yesterday at 9.15am a carload of youths were waiting for the store to open at 10am. They were quite taken-back that it wasn't open and demonstrated loudly the fact."
He said during one 45min period he observed 12 people "not going in to buy sex products". Residents and business owners have reported feeling intimidated by the clientele attracted to stores selling synthetic drugs, after police were called to the Dickens St shop early yesterday morning when locals raised concerns about up to 20 people thought to be waiting outside to buy legal highs.
A Napier business owner, who did not wish to be named, said the crowd yesterday morning was intimidating, especially to staff walking to work.
"My staff often walk to work past the sex store, so it's a bit scary for them," said the woman, who has noticed an increase in people waiting for the store to open, a trend also noted at a Hastings store. She said about eight police officers attended the scene.
Hawke's Bay Today understands police arrived at about 8.30am to find the crowd.
"They were causing a bit of grief to other business people," an officer said. "However there was nothing criminal and what they're buying is legal."
He said police receive similar calls regularly and are focused on any breaches of public order.
"There's a lot of mob members with fully tattooed faces, a lot of less than desirable types."
Napier Adult Selections could not be reached for comment on yesterday's incident.
The Adult Selections Hastings owner told Hawke's Bay Today he currently sells synthetic drugs but the people who gather outside his store are not trouble makers.
"I make sure that I check everyones ID when they come in here, you have to be 18 to enter this store," he said, when questioned about the age of his clientele. "I do get a number of people waiting outside my store in the mornings.
"I used to open at 10am but I have been pushing the opening time earlier and earlier, but none of them are young kids. They are adults, of all ages."
Hawke's Bay Today purchased a legal high product called Voodoo from Hastings Adult Selections last week to see how easy it was to do so.
It's believed some customers also on-sell the products to others, some of them teenagers..
The violent effects of legal highs was seen in Hastings this month when a 12-year-old boy, high on synthetic cannabis, attacked a 49-year-old man in Hastings, stomping on his head.
A public protest has been arranged to try and ban synthetic drugs from the Hastings CBD and is set for Friday at 12.30pm. Local MPs and the mayor have been asked to address the crowd.
Both Hastings district and Napier city councils have tried to stop the legal high issue.
Last week they voted to limit the sale of psychoactive substances to the CBD. If adopted, the policy would restrict the sale of synthetic drugs to the CBD and sales within 100m of kindergartens, childcare centres, schools, libraries or places of worship.
A total ban on the products was not possible due to central government policy.