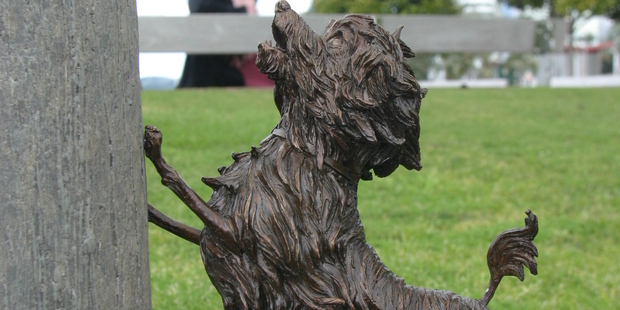 The bronze Hairy Maclary storybook statues could be a feature of Tauranga's downtown waterfront by Christmas if the city council waives the $150,000 needed to ensure ratepayers do not end up funding maintenance of the statues.
Fundraising difficulties by Creative Tauranga and the prospect that the statues could end up in storage for a long time were raised at yesterday's council meeting.
Councillor Larry Baldock urged the council to drop its demand for the $150,000 before the statues could be installed by the children's playground. It follows a meeting of the City Centre Taskforce which was addressed by Creative Tauranga CEO Tracey Rudduck-Gudsell.
A paper was being prepared for the council next month setting out options for the $150,000 and other measures to get the statues installed.
The issue of the $150,000 was raised after Creative Tauranga's annual report showed it lost $41,000 due to a drop in advertising income and increase in accrued holiday pay.
Councillor David Stewart said the money was not looking so good and he asked how Creative Tauranga was dealing with it.
Ms Rudduck-Gudsell said she had "good discussions" with the council's city directions group manager Christine Jones, and that the council would be updated in the confidential section of the agenda.
Yesterday's meeting included a confidential section headed "Creative Tauranga Relationship Agreement - six monthly monitoring report".
Cr Murray Guy asked what would be the process to get the Hairy Maclary statues installed earlier while protecting the interests of ratepayers.
Ms Jones said it would require a council resolution that did not require Creative Tauranga to pay the $150,000 before the statues were installed. The council would have to decide whether the future maintenance of the statues required a contribution from rates or not.
Creative Tauranga could also be spared the additional cost of installing the statues if the council's city partners worked in-kind to get the job done.
Mr Baldock said the presentation to the taskforce included staff saying that there would not be any huge extra cost to maintain the statues. He said afterwards that he would hate to see the statues sitting in a warehouse because Creative Tauranga could not afford the $150,000.
"They are being gifted to to the city anyway, so why not just take them over ... they are bronzes, what would it cost?"
Ms Rudduck Gudsell said it would not cost $4000 a year to wipe the statues down on a regular basis. She estimated Creative Tauranga would be left with $200,000 to raise if the council waived the $150,000 and the installation was done by an in-kind arrangement.