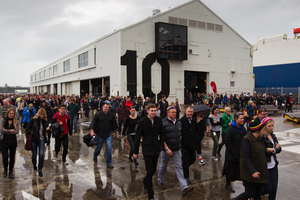 A devastated Auckland crowd has left Shed 10 dejected after losing the 13th America's Cup race.
It ended a disappointing day for the Kiwis after almost winning the first race this morning before it was called off after running out of time.
Mood was tense in the waterfront venue as the Dean Barker and his crew suffered a penalty and failed to get to the second mark first. Trailing behind, the crowd in Shed 10 nervously watched in silence as they fought to gain ground.
A few shouts of "go Team New Zealand" or "we can do it" could be heard from time to time, but the groans and mumbles started to come through as fans lost heart. Some even started to leave as a Kiwi defeat looked inevitable.
It was a big change from the optimistic cheer that went up as Team NZ crossed the start line, looking strong and after outpacing Oracle throughout the first race.
But fans still remain positive that Barker and his boys will bring the Auld Mug back to New Zealand with them.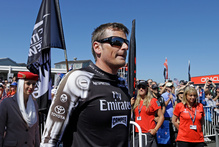 The Green family who travelled down to Auckland from Whitianga to watch the races from Shed 10 said they were confident the Kiwis could do it.
"We were supposed to go home today but we're already ringing our hotel to book in tonight so we can come down here tomorrow," said mum, Mary.
"After today's bad luck it will be ours tomorrow."
Her husband, Dave, said he was "absolutely gutted" by the days events.
"We should have really been able to pull that one off," he said.
Even seven-year-old son Colville said it was a "disappointing" race.
"We should have knocked them out of the water."