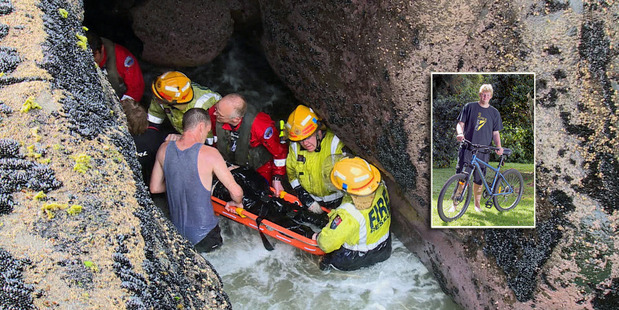 There's not much that's good about tumbling 5m down a blowhole and breaking your pelvis in three places.
Except when - in a roundabout way - the mishap helps raise money for cancer research.
It would be a stretch for Aaron Mitchell to describe his painful experience at Muriwai Beach, West Auckland, 11 months ago as positive, but the 22-year-old agreed something good was coming from it.
He was walking around rocks with a friend when he slipped into the gap in the rocks. A member of the public, Jordan Rippey, helped keep Mitchell afloat until rescuers arrived.
Mitchell was winched to safety by Westpac Rescue helicopter staff and lifeguards. After weeks in hospital and months of physiotherapy, he has almost completely recovered.
"It was a bit of an eye-opener. I learned that life is precious and you have to seize the day."
Part of his shift of focus included changing the way he lived. The North Shore supermarket worker was once happy to spend his free time sitting in front of the computer, but now cycles up to 100km a week.
In November, he will put that training to good use, cycling 200km over two days in the Ride to Conquer Cancer charity event.
"I realised just how important the role of medicine is and I always wanted to give back to the people who helped me in my time of need."
His ride will also honour his mother and grandmother, who have recovered from cancer diagnoses.
Mitchell hopes to raise up to $3,200, and donations can be made here.