Octogenarian neighbours at loggerheads in a dispute over a protected gum tree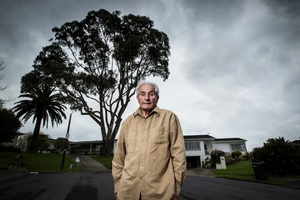 A pensioner is threatening to park a portable toilet on his lawn in a long-running fight with a neighbour over a gigantic gum tree.
Henk van der Vliet, 81, has been locked in an 11-year battle with Jean Jones, also in her 80s, over a protected gum tree on her lawn.
The two have argued since Van der Vliet moved into the quiet Pakuranga Willow Way cul-de-sac in late 2001.
Van der Vliet said the tree's roots had repeatedly damaged his sewerage pipes and drains. He said he feared a large branch could crash on to his house or passersby.
Van der Vliet wrote to Auckland Mayor Len Brown last week asking for help. He said his drains would overflow again and he could not do any more repairs.
"I'm going to let the sewer overflow and put a Portaloo on my lawn. Then I'll write to Len Brown and say: 'Is that the city you want to live in'?"
Van der Vliet said he had collected 11,000 signatures in support but he no longer wanted the tree cut down. He just wanted it cut back.
The father of four said legal action and repairs to his house had cost him thousands of dollars.
A cancer survivor with only one kidney and a damaged heart, he was unable to sleep because of the stress.
"But what can I do?"
Jones' lawyer, Rod Ewen, said his client had done "everything asked of her". "This has been the bane of her life for 11 years".
Branches were regularly trimmed after a Disputes Tribunal decision in 2004, but Van der Vliet had not met his obligations to repair his drains and install a root barrier.
Auckland Council commissioners rejected Van der Vliet's claims last year. Brown's spokesman, Glyn Jones, said Van der Vliet was advised to appeal to the Environment Court but Van der Vliet told the Herald on Sunday that he didn't because he did not think he could win against the council.