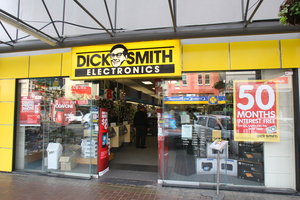 A mother is calling for electronics retailers to monitor their in-store internet access more closely after her three young daughters saw pornographic images on a display tablet.
Jessica Ault took her daughters, aged 9, 7 and 4, into Dick Smith electronics in St Lukes on July 28 to buy a new computer mouse and a box of batteries. The visit was "pretty uneventful" until she went to leave the store and realised what her girls had been looking at while she had been speaking to staff at the counter.
"As we were exiting the shop I glanced to the display of tablets to my right and saw three shots of pornography on the side of the screen."
Mrs Ault tried to shield her daughters from the "hideous" image by pushing the tablet away from them. But it was too late.
"My eldest daughter said 'What's wrong mum, was it inappropriate?' It was horrific.
At first I thought it was funny but then I realised the kids had seen it and I thought 'Oh my God, that's terrible'." Mrs Ault called out to the assistants to alert them to what was on the screen, but said she was too furious to wait and left the store.
She later wrote a letter of complaint: "I'm a 39-year-old mum of three who is, by and large, a pretty decent, tolerant human being. I'm also not a prude in any shape or form. I generally believe in freedom of speech, and the right of humans to do whatever they want behind closed doors as long as it's between consenting adults, ya know? However, I wanted to report an incident which has left me saddened and confused.
"I am pretty saddened that my daughters have been subjected to these images at such a young age and so unnecessarily. A simple lock system would have ensured that they didn't have to see what they sadly have now seen."
Mrs Ault found it hard to believe Dick Smith did not have a lock on its computers to prevent people from accessing inappropriate websites.
"I believe it's imperative for the retailers of devices that have internet connections to be aware of this and safeguard their content and also parents should tread carefully when entering any shop where internet is available," she said in her letter.
In response, Dick Smith offered Mrs Ault a $20 store voucher. But she was still "outraged", she said, and felt the store was being "blasé" about the situation.
Dick Smith's general manager of marketing, Francois Smith, was surprised to hear about Mrs Ault's experience and told the Weekend Herald he would look into the matter.