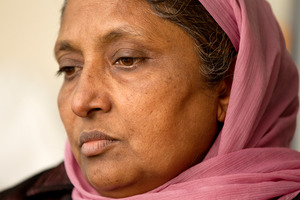 The "shell-shocked'' mother of a security guard killed on the first day on the job feels betrayed by the justice system after the man accused of murdering him was acquitted today.
The man, who has name suppression, was found not guilty by an Auckland High Court jury of Charanpreet Dhaliwal's murder.
But the 28-year-old accused was found guilty of assaulting a nightclub doorman on the same day.
The jury in the High Court at Auckland delivered its verdict after deliberating for almost eight hours.
The man was sentenced by Justice Kit Toogood to to six months in prison for the assault.
Mr Dhaliwal, 22, died from multiple skull fractures and other head injuries while working at a Fulton Hogan construction depot in Henderson, almost two years ago.
His mother, Karanjit Kaur, flew to New Zealand from India to attend the trial and did not stop weeping after the verdict was read out.
Family spokesman Jasnit Singh spoke to the media on her behalf.
"There's been no justice for the family at all. She's absolutely broken and she just has no words to describe how she's feeling.''
She felt she had been "betrayed by the justice system in this country'' and could not believe the verdict.
"She's absolutely shell-shocked. She just can't believe that this has happened to her,'' Mr Singh said.
She was also "very concerned'' that he had been sent out alone to work that night.
"Had the proper procedures been followed her son would have still been alive. He was there alone, with no support and he was sent to his death by a person who just had profit in his mind so she still wants to know, where is the justice,'' Mr Singh said.
Mr Dhaliwal was a young man who was "full of life''. ''[He was] always laughing, very religious and always bubbling with enthusiasm.''
His body was discovered lying in a pool of blood by a construction worker returning equipment to the depot early on November 18, 2011.
During the trial, which began on September 2, the Crown had argued that the man, accompanied by three others, punched a doorman at a bar in Henderson after being refused entry.
- APNZ