Congregation backs stand after Presbyterian Church's actions cause protest walkout.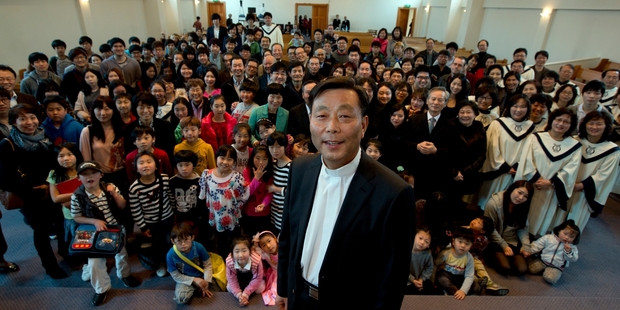 A defiant deposed Presbyterian Korean pastor has vowed to continue leading church services despite being barred.
David Ock-Youn Jang was struck off the ministerial roll last Friday after a church investigation found him guilty of sexual misconduct and abuse.
But yesterday, he led a service - and says he will continue to do so with the backing of the parish council and congregation at his West Auckland church.
After his service yesterday, officials from the Presbyterian Church of New Zealand - Moderator Roy Christian, Asian ministries co-ordinator Kyoung Gyun Han and Northern Presbytery clerk Alex Robinson - announced the deposition of Mr Jang, but were given a cold reception.
More than half a dozen parishioners voiced their wish to keep their pastor, and most - including Mr Jang - left the service in protest before Mr Christian could make the announcement.
Church deacon Mrs Hee Sook Cho said: "We trust Rev Jang but we don't trust the Presbyterian Church."
Many also took offence that a summary of the complaints hearing committee's decision was circulated before the announcement.
The summary contained sexually explicit details, including the nature of the acts, where they happened and how often the deeds of misconduct were said to have occurred.
Retail worker Jo Park, 31, was in tears after the announcement and felt the church's action was "overkill".
"It's unfair not just to Rev Jang and the congregation, but also the complainant ... " Ms Park said.
The complainant cannot be named for legal reasons.
A Presbyterian Church disciplinary hearing found Mr Jang guilty of grave impropriety, sexual misconduct and physical, verbal and emotional abuse.
Congregation spokesman Nathan Jang said the parish council was looking at all avenues and options, including suing the Presbyterian Church for defamation, for the way it conducted yesterday's announcement.
Mr Jang told the congregation during the service that he would continue to lead them as a minister of the Korean Presbyterian Church Abroad, which did not fall under the jurisdiction of the local Presbyterian order.
But Mr Robinson said Mr Jang had not gone through the proper process to be transferred to the Korean church, and had done so without the approval of the presbytery.
"Regardless of any denomination Jang indicates he is now affiliated with, he has been found guilty of gross misconduct, and accordingly is not considered a minister in good standing," he said.
"He is barred from participating in any ministerial or pastoral duties within any Presbyterian or Uniting congregation in New Zealand.
"Should he ignore the ruling to cease and desist all pastoral and ministerial responsibilities in relation to his current congregation, we will take the necessary steps to remove him," Mr Robinson said.