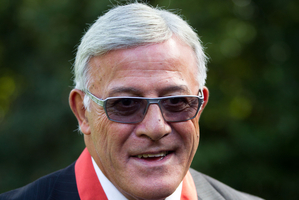 Legendary All Black wing Bryan G Williams, who was yesterday honoured at Government House in Auckland for services to rugby, kicked off his oval-ball career in league.
"Beegee" Williams, who was made a Companion of the New Zealand Order of Merit, said that when he was 5, he began a five-year stint with Auckland's Ponsonby rugby league club, before switching to the Ponsonby rugby club after his league team disbanded.
"I had my two older brothers ... playing for Ponsonby rugby. They managed to talk me into playing for Ponsonby rugby."
Now aged 62, Mr Williams is still a member of the Ponsonby club, where he is director of rugby. And he keeps his hand in at junior level too, putting the flags out at weekends on a rugby field at Coxs Bay Reserve, which borders his Westmere home. Until the end of last year he coached the rugby academy at Mt Albert Grammar School.
Mr Williams, the immediate past-president of the NZ Rugby Union, said his investiture as a CNZM by the Governor-General, Sir Jerry Mateparae, was a great honour.
"I'm very thrilled about it. It's the culmination of a long time in our national sport. I think rugby as a game is a great part of the history and heritage of New Zealand."
After his investiture, Mr Williams had a celebratory lunch with his family at Swashbucklers Restaurant in Westhaven and for dinner he was to share in a vice-regal feast.
"We're dining with the Governor-General and his wife this evening at Government House."
On his favourite tries, Mr Williams first recalled one against Eastern Province in South Africa during the All Blacks' tour in 1970.
"The ball went to ground and I back-heeled it, about 70 or 80 metres out, and I picked it up and took off down the field. I sidestepped a few and scored under the bar. That was probably one of the special ones.
"There was another one in South Africa also where I sidestepped two or three behind the goal line in a test match against the Springboks. That's one of my special memories."
Beegee Williams' record
• All Black 1970-78.
• 113 matches for the All Blacks.
• 38 tests.
66 All Black tries.
• NZ Rugby Union president 2011-13.
• Coached Samoa to victory over Wales at the 1999 World Cup.