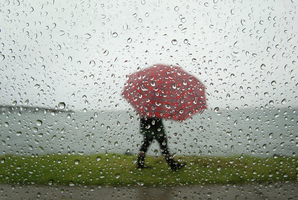 Aucklanders will shiver through the weekend as warmer than average temperature plummet back to 6C or 7C by Sunday.
But they can at least expect a dry weekend as the low which brought rain today moves to the east.
Afternoon temperatures were expected to reach 15C and although this might feel chilly, it is only a return to average August temperatures after a very warm winter, Weather Watch meteorologist Philip Duncan said.
However, temperatures in Auckland would drop to 6C or 7C by Sunday morning and the South Island could expect frosts, Metservice meteorologist Dan Corbett said.
Light southeasterly winds would ease on Sunday and sunny spells would continue through to Monday, he said.
Showers may nag the east coast from eastern Northland, Gisborne and Hawkes Bay as the low continued to spit out showers but rain would ease on Sunday.
Everywhere else would be fine except for some morning cloud, Mr Corbett said.
The South Island would be fine but cool as a high expands in the northeast, perfect conditions for skiing, Mr Corbett said.
- APNZ