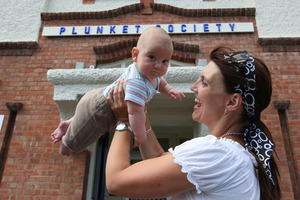 Michael Laws has put his local body campaigning on hold with news his former partner and mother of his three youngest children has suffered a severe stroke.
Mr Laws said doctors had told him that Leonie Brookhammer, 44, was expected to be hospitalised for some weeks.
Both he and Ms Brookhammer share parenting of the children - Lucy, 8, Zoe, 7, and Theo, 4 - and he said his immediate priority was their care for the foreseeable future.
"They need their dad just now," he said.
Mr Laws said this meant his campaigning for the Wanganui mayoralty, as well as a seat on the district council and the Whanganui District Health Board, would be suspended until further notice.
He outlined his decision in an email to Mayor Annette Main and his council colleagues.
"I'm not sure of the long-term prognosis. The doctors inform me that Leonie will be hospitalised for at least six weeks," he said.
Mr Laws said over the next few days he would evaluate Ms Brookhammer's condition but in the meantime his children's care "will be my absolute priority".
The news meant Mr Laws was not able to attend this morning's special council meeting to discuss an urgent upgrade to the city's wastewater treatment plant.
He has been a strong advocate of council looking at alternative engineering options for the Airport Rd plant.
For more articles from this region, go to Wanganui Chronicle