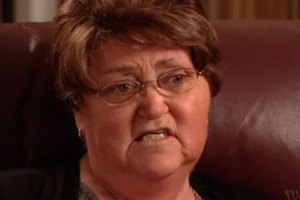 The daughters of a woman who died from an cancerous lesion which ate through her skull, eventually exposing her brain, say an alternative treatment therapist actively discouraged their mother from seeing a doctor.
Yvonne Maine, died in 2010 as a result of the invasive carcinoma on her head.
Mrs Maine, who was 74 when she passed away, had previously sought treatment for the lesion from iridologist Ruth Nelson.
Iridologists are natural health practitioners who examine a set of muscles in an individual's eye - the iris - and then deduce the the health of other parts of the body from what they see.
Mrs Nelson's treatment of Mrs Maine for the lesion is the subject of a Human Rights Review Tribunal being held in Wellington this week.
The Office of the Health and Disability Commissioner, which is taking the case against Mrs Nelson, allege the 72-year-old breached the Code of Health and Disability Services Consumers' Rights in her treatment of Mrs Maine by misrepresenting the effectiveness of her treatment, misleading Mrs Maine about the treatment she could receive from a doctor by playing on her fears and providing treatment which was beyond her expertise and inappropriate in the situation.
Mrs Maine's lesion eventually grew in size to 10cm by 11cm by the end of the 16-months alternative therapy treatment period.
While it was not initially known it was cancerous, by the time she sought the help of a medical professional in late 2009 it was too late.
She received major surgery and had part of her skull replaced with bone from her ribs, but died a year later.
Both Mrs Maine's daughters today gave evidence to the Human Rights Review Tribunal, which is being presided over by chairman Rodger Haines, QC.
Under cross-examination, Mrs Maine's youngest daughter Carla Taylor, 39, told the Tribunal her mother feared having surgery or treatments such as radiation and chemotherapy.
She said whenever the subject of seeking medical care with a hospital or GP was brought up with Mrs Nelson, both her and her mother were discouraged from doing so.
Ms Taylor said Mrs Nelson played on her mother's fears.
"She also told mum that the other alternative [was that] they'd turn her away completely.''
On one occasion, when asked by Mrs Maine whether she should go to hospital, Mrs Nelson replied: "You can go if you want but you know you'll get swine flu,'' Ms Taylor said.
Ms Taylor's older sister, Julieta Williams, said during her brief of evidence her mother had a lot of faith and trust in Mrs Nelson.
"Ruth led us to believe she could treat the cyst and actively discouraged us to seek medical care.''
Mrs Nelson is expected to give contradicting evidence later this week.
- APNZ