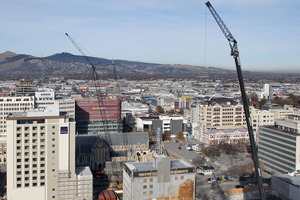 What exactly is the holdup in Christchurch? A year has passed since the Canterbury Earthquake Recovery Authority drew up a plan for the rebuild of the city centre but nothing seems to be happening. One potential investor, the New Zealand Super Fund, has expressed its frustration. The fund's chief executive, Adrian Orr, told the Herald last week it is keen to put money into Christchurch once they can assess what is proposed. But it was still not clear to him who has responsibility for the major projects. "That is what has been taking a long time and is quite frankly frustrating."
He is not alone. Builders are reported to have descended on the city, many from overseas, to suffer similar frustration. Some suburban residential rebuilding is under way but the big public projects that are supposed to lead the inner-city's commercial reconstruction are still no more than colours on a plan.
The recovery authority appears to have spent the past year negotiating with inner-city landowners whose sites, now cleared, are in a precinct marked for one of the major projects, or lie in a green belt the planners have envisaged. The man who was appointed to make things happen, Roger Sutton, says the authority has about 60 per cent of the land it needs and is preparing to use its powers of compulsory acquisition against owners who are holding out for higher prices.
Some of them, meanwhile, have formed an organisation that is contemplating legal action against acquisition. This sort of dispute is madness in a city that needs to see some signs of recovery in its central business district as soon as possible. It makes no sense for the recovery authority to be at loggerheads with any landowner who sees more value in an inner-city property.
If any of them want to rebuild on a site they own, their confidence should be applauded. If their plans are in conflict with the authority's masterplan, it is the masterplan that should make way. Empty space, sadly, is available in abundance in what remains of the Christchurch CBD today.
There is nothing sacrosanct about the precise positions of the authority's envisaged sports stadium, convention centre, "innovation precinct" and the like. The whole purpose of these proposals was to give private property owners the confidence to reinvest their insurance payouts in the inner city. If any of them are willing to reinvest without that encouragement, it makes no sense to stand in their way.
Big ambitious projects, advanced without finance or a definite construction programme, can do more harm than good. They can arrest natural redevelopment of the designated area. In an area devastated by earthquake, where even the roads, drains, water supply and sewers need to be replaced, the uncertainty of unfunded major projects is even more serious.
The infrastructure supplement we published last Monday revealed the rebuild of Christchurch's surface and underground services is now about 30 per cent complete. But in the city centre, where a demolition cordon was removed only two months ago, the repair of roads and reticulation has barely started. That work, too, will now await more definite plans for the stadium, convention centre and the rest.
If the Government and its recovery authority are serious about these "anchor projects", they need to start showing it. Potential investors need to see definite proposals, so do property owners nearby, and builders and subcontractors. None of them can afford to wait forever.
The country, meanwhile, waits to see what the economic impact of the rebuild will be. The expected stimulus may be uneven when resources are drawn south. Until it starts, we can only wonder.