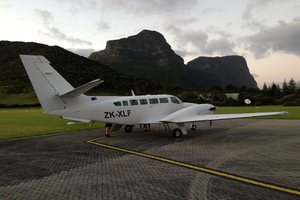 Searchers scouring the Tasman Sea near Norfolk Island for the missing American yacht Nina have come up empty-handed.
The new search began yesterday after an orange object, believed to be the liferaft, was spotted in a high-resolution satellite image.
A Gisborne-based Kiwi Air twin-engine Cessna F406 flew to Norfolk Island on Sunday but bad weather delayed the search until yesterday morning.
Search liaison man John Funnell said searchers had sighted only whales, birdlife and a yellow object believed to be a crayfish buoy.
The Rescue Co-ordination Centre had narrowed down a higher probability area of 35 by 100 nautical miles, which the Cessna had searched yesterday and was set to complete today, Mr Funnell said.
The 85-year-old vessel left the Bay of Islands on May 29 and was headed for Newcastle, Australia. Neither the yacht nor the seven people on board have been seen or heard from since June 4.
A search was launched on June 25 but was called off on July 4.
The Nina is owned by professional captain David Dyche III, 58, and his wife, Rosemary, 60.
They were on board with son David Dyche jnr, 17, and fellow Americans Evi Nemeth, 73, Kyle Jackson, 27, and 18-year-old Danielle Wright. Also on board was Briton Matthew Wootton, 35.
Family and friends of those on board have refused to give up hope, despite the official search being called off. They have been fundraising to pay for private searches to continue.
"It is either that the Nina and its resilient crew got caught in a perfect storm, which caused everything to go wrong at the same time and orchestrated the sinking and total disappearance of a 21m yacht along with its seven-strong crew; or they lost communications, have damaged sails, and probably faced more damage that prevented them from making it to the shore since they left New Zealand," a representative of the families said on the official Nina Facebook page.
"When valuable human lives are at risk, there is not much of a point to the debate of which scenario is the more likely. It is only our duty to explore the possibilities."
The families of those missing pleaded for help to keep their search going and said they would not give up hope.
- APNZ, additional reporting Anna Leask
- APNZ