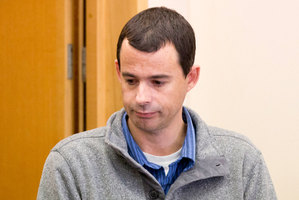 A member of the Kaitaia Child Protection Team has defended the action police took in 2009 when an allegation was first made about James Parker sexually assaulting boys.
At a press conference held after the sentencing of the former Pamapuria School deputy principal, Detective Mark Dalzell said a boy had told police his complaint was a lie, removing any chance of the police having evidence to form an investigation.
It came to light in the press conference that police discovered the original complaint was withdrawn after Parker had interactions with the boy before the interview.
Mr Dalzell said the officer in charge of the investigation interviewed Parker "robustly and at length" and the allegations were denied. It was disappointing that Parker wasn't arrested earlier but police followed every avenue they could.
He said the difference between the 2009 allegations and the 2012 allegations was the "absolute courage" of one boy who told police what Parker was doing.
"We still faced the challenges in 2012 that we faced in 2009, and that was to win the trust and confidence of our boys, making them feel comfortable enough to talk to us, and once we did that we got our evidence."
Concerns were raised in 1998 about behaviour exhibited by Parker that was considered inappropriate; however no formal complaint was laid with police.
Timeline of events:
1998 - Abuse started. Police warn Parker but no action taken.
March 2009 - A victim goes to police but later retracts his statement.
July 13, 2012 - Parker arrested on sex charges involving 15 young boys.
July 14 - Parker confesses to his crimes.
August 22 - Pleads guilty in the Kaitaia District Court to 49 charges of sexually abusing the boys.
September - Education Ministry begins investigation into Parker's actions and how it continued for so long.
September 17 - Kaitaia's clergy join with pupils, parents and friends of Pamapuria School for a service of rededication, marking a new beginning after the devastation brought upon the school and community by Parker.
November 25 - Charges relating to eight more victims laid by police include eight of performing an indecent act on a boy under 12 years, four of an indecent act on a boy aged 12-16, one of indecent assault on a boy under 12, four of indecent assault on a boy aged 12-16 and four of sexual violation.
April 10, 2013 - Parker's case transferred to the High Court by the Kaitaia District Court after he pleaded guilty to 25 more charges.
May 2 - High Court callover. Crown prosecutor Mike Smith informs the court he'll seek preventive detention for Parker.
August 15 - Parker is sentenced to preventive detention.
For more articles from this region, go to Northern Advocate