Interest in marriage forms from as far away as Texas, Paris and Japan.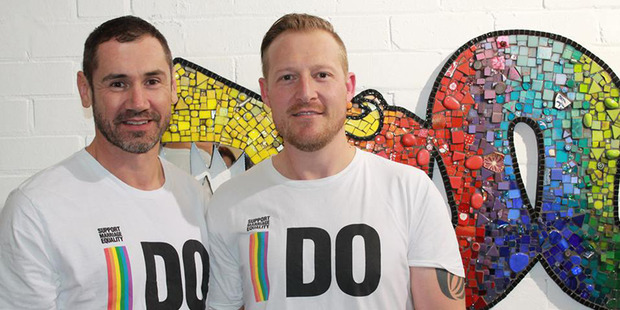 The number of marriage forms downloaded reached 516 on Monday, when the new documents became available allowing same-sex couples to wed.
The number more than doubled last Monday's figure of 198.
Fifty-four Australians had downloaded the forms, including 23 from Sydney.
Others from around the world were also jumping on the bandwagon with interest from as far as San Antonio and Arlington in Texas, Strullendorf in Germany, St Andrews in Scotland, and other major centres including London and New York.
Reisidents in several Asian locations - including those in China, Sri Lanka, the Philippines, Japan, Thailand, Malaysia and Singapore - had also printed the forms.
There are three marriage forms to choose from - 93 people had downloaded forms available to applicants based overseas, 361 people downloaded standard forms which are available to New Zealand residents and in-country tourists, and 62 people downloaded a form to change from a civil union to a marriage.
The new forms became available on Monday and couples can take the signed documents to a registry office from tomorrow morning. From this Monday, couples will be issued with a marriage licence.
The Notice of Intending Marriage has been redesigned to let people choose whether to be called "bride", "bridegroom" or "partner".
Registrar-General of Births Deaths and Marriages, Jeff Montgomery, said it wasn't likely all forms downloaded would be filled out and handed in. People could also pick up forms from their local Births, Deaths and Marriages office which was not included in the data.
Mr Montgomery this week attended a marriage celebrant workshop in Christchurch. The majority had had bookings or inquiries from same-sex couples.
"There's going to be an initial rush of people who have either won a competition or who are eager to be part of the historic occasion by getting married on the first day.
"For most gay couples who are wanting to have a wedding, they'll be going through the normal process that everyone else goes through of planning the big day, sending out invitations ... and people will be wanting to do that at a time that suits them, rather than on a Monday morning in the middle of winter."
There had been 120 celebrants who only had licences to perform civil union ceremonies and they had been offered the opportunity to also become independent marriage celebrants in time for the changes. Almost all had taken up that chance, Mr Montgomery said.
"The reason we did that was to make sure there were sufficient celebrants available early on who were positively orientated towards the same-sex market."
Mr Montgomery, who had a civil union with his own partner Dean Halifax four years ago, said he was not planning on getting married any time soon.
There are at least four competitions around New Zealand in a battle to see the first gay couple married.
NZ's first gay weddings
Auckland couple Tash Vitali and Melissa Ray will be married from 8am in the liberal Unitarian Church on Ponsonby Rd, Auckland, as part of a competition by ZM radio station.
Christchurch couple Richard Rawstorn and Richard Andrew and Bay of Islands couple Jess Ivess and Rachel Briscoe will be married simultaneously at the Rotorua Museum as part of a promotion by the Edge radio station.
Australian couple Paul McCarthy and Trent Kandler will marry at Te Papa in Wellington in a ceremony sponsored by Tourism NZ.
Auckland couple Lynley Bendall and Ally Wanikau will marry during a flight between Queenstown and Auckland, sponsored by Air New Zealand, with gay star of the US TV show Modern Family, Jesse Tyler Ferguson, in attendance.
Same-sex pair blaze trail for Australia
Paul McCarthy and Trent Kandler will still face prejudice back home, but for five blissful days they'll be treated equally in New Zealand.
The pair will become the first same-sex Australian couple legally married under New Zealand's Marriage Equality Bill when it comes into effect on Monday.
They won Tourism NZ's competition for an all-expenses paid wedding at Wellington's Te Papa Museum.
The couple, who live in Newcastle, New South Wales, arrive this afternoon and will be busy over the weekend preparing for the wedding.
Same-sex marriages are not permitted under Australian law but two marriage equality bills are before Parliament.
Mr McCarthy, a veterinarian, told the Herald his father would not attend his wedding because of his views on gay marriage.
"My parents are both Catholic so it has taken both mum and dad a long time to come to terms with my sexuality ... my father has been the most challenging person. It's getting better ... my dad still had a few issues about my sexuality and he's an older man now and the travelling may have not been too easy for him. It's a bit of a combination."
Mr Kandler, a primary school teacher, has parents who are supportive. His father, who is gay, had split up with Mr Kandler's mother when he was four years old.
Mr McCarthy and Mr Kandler's first overseas trip together was to the South Island, so it holds a special place in their hearts.
Tell us
Are you aiming to be one of the first gay weddings?
Email: newsdesk.co.nz