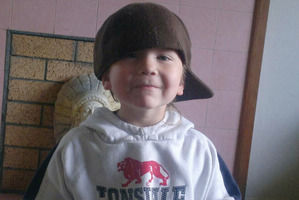 A 3-year-old boy has woken from a three-week coma after suffering horrific head injuries in a fall at an Auckland playground.
Auckland Council has dismantled the monkey bars that nearly cost little Jai Ihaka his life. But the incident has sparked new debate over playground safety in the wake of revelations in the Herald on Sunday last week that a series of more challenging playgrounds are being built around the country.
Jai was injured at Hart Domain, Henderson, which is not one of the new style of playgrounds being created.
But his parents want safety standards reviewed and are urging parents to be aware their children could be severely hurt at even the most benign venue.
After apparently hitting his head hard on the matting below a set of monkey bars, Jai suffered a serious brain bleed.
That was on July 13. Jai spent the next three weeks in a coma in Starship Hospital and only woke up last Sunday.
Doctors hope this week to reattach the part of his skull they removed to relieve pressure and remove a clot. But he will never fully recover from his brain injuries.
As well as removing the monkey bars the council has blocked off the gap he's thought to have fallen through.
Meanwhile, Jai's parents, Nicky Ihaka, 42, and Tony Chamberlain, 36, want to prevent another child suffering such injuries. "I've been a mother for 20 years," says Ihaka, who has four children. "I always thought playgrounds were safe." The worst injuries she thought children might suffer were broken arms or concussion.