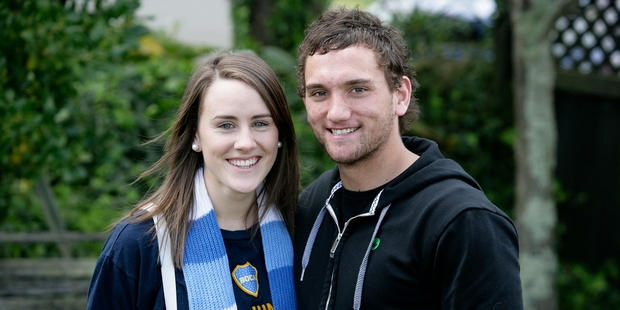 A Super 15 champion, named again as an All Black - and now a husband-to-be.
Chiefs rugby star Aaron Cruden has capped off a memorable weekend with news he is to marry long-term girlfriend Grace King.
The first-five plans to marry his fiancee this summer, according to Woman's Day.
The pair, both 24, met when they were 18 in Palmerston North. One year into their relationship - as Cruden was starting out in his rugby career with the Manawatu Turbos - he was struck down with an aggressive form of testicular cancer which spread to his lungs.
Miss King, a sports teacher, nursed Cruden through chemotherapy and they formed an unbreakable bond, they told Woman's Day.
"The support and love she showed me when I was sick made me realise I had found a real keeper," Cruden told the magazine.
The ring, a three-carat diamond solitaire, was chosen by Cruden after a Chiefs game in South Africa last season, according to the article.
It has not been revealed where they plan to wed but the pair have settled in Hamilton, buying a house in Flagstaff last August.
When the Herald visited their home yesterday, the day after the Chiefs stormed to victory in the Super 15 home final against the Brumbies, empty boxes of Waikato beer sat outside the garage. Several cars lined the driveway of the new house, situated in an upmarket subdivision. Miss King said Cruden was not home and she could not comment.
Cruden was yesterday selected for the All Blacks after the Chiefs' win, in which he scored crucial catch-up penalty points after missing two and tackled Clyde Rathbone to help prevent what would have been a turning-point try for the Brumbies.
The Chiefs are to receive a special gift from Mayor Julie Hardaker at a victory parade in Hamilton tomorrow after celebrations of their second consecutive championship helped the city record one of its biggest nights.
"I think the city has got to show what an outstanding achievement [a back-to-back win] is," the mayor said.
Hosting the final meant an economic spin-off for the city estimated at $5 million.
Lawrenson Group chief executive John Lawrenson said the victory produced a "phenomenal" night in Hamilton with two of his bars recording their biggest takings in a single night, and three others making their second-biggest turnover.
"We did more turnover than the Lions and Irish tests and more than any nights in the Rugby World Cup."
Phoenix Group director Jason Macklow, whose bars in Hood St surrounded the official fanzone, said the city swelled to "massive" proportions and punters queued and partied until closing at 3am.
"It's just one of those nights Hamilton should be really proud of ... As far as atmosphere goes it was in my opinion better than the World Cup final."