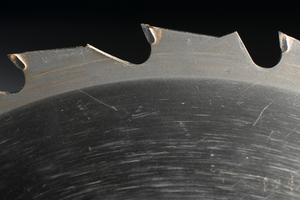 An IHC subsidiary could face disciplinary action after an intellectually impaired man was left alone with a circular saw, which became embedded in his abdomen.
Health and Disciplinary Commissioner Anthony Hill has released a report into Timata Hau Ltd, which found "severe" inadequacies with the service and employees involved in the activity.
The man and the staff involved have had their names suppressed by the commission to protect their privacy.
The man, Mr A, was part of a working skills programme, run by Timata Hau, working at a woodshed on the "kindling activity".
He was known to staff for being easily distracted and displaying poor attention to instructions.
On September 30, 2010 acting life skills co-ordinator Mr E allowed Mr A to use a circular saw for the kindling activity under the supervision of community support worker Mr F, Mr Hill said in his report. Neither Mr A nor Mr F had been trained and signed off as competent to use the circular saw.
At 10.15am, Mr A had an accident with the circular saw when his clothing became tangled in the saw blade. It was decided that it was not safe for him to continue using the saw.
The saw was turned off but still plugged in.
Mr F saw Mr A pick up the saw, but failed to do anything about it.
About five minutes later, Mr F heard Mr A scream. He turned and saw Mr A lying on the stack of pallets with the saw lodged in his abdomen, the report said.
He was rushed to hospital where he had surgery. He has since made a full recovery.
Amongst his criticisms, Mr Hill said there appeared to have been a "lax approach" to compliance with policies by staff at Timata Hou, and a casual attitude to staff and client use of power tools.
"That attitude and approach to client use of power tools was inappropriate."
He said it was "foreseeable" that a serious incident could occur.
"I find that Timata Hou failed to provide services to Mr A with reasonable care and skill," Mr Hill said.
"I also find that Timata Hou did not provide Mr A with services in a manner that minimised the potential harm to Mr A."
He considered that Timata Hou's departure from accepted practice in relation to the service provided to Mr A was severe.
No one from IHC was available for comment.
apnz rq
- APNZ