This fizzy 'Australasian' is bound to make her mark on the Auckland Art Gallery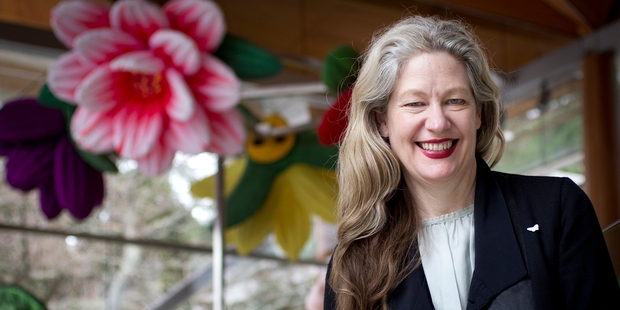 A fanciful notion: If a public art gallery comes to reflect something of the style of its director, what might the Auckland Art Gallery look like after a few years of its new director, Rhana Devenport, running the place?
On Wednesday, she'd been in the job for three days - the first of which was mostly taken up with a powhiri which of course she adored. Her office was full of flowers. She was drinking peach-flavoured green tea and was "head-to-toe in Nom*D". Well, almost. She was wearing her favourite big black flat-heeled Trippen boots from Berlin. These might provide a clue. She wears boots from a company which claims it: "Combines social responsibility, sustainability and environmental issues with a modern and innovative design." That's not a bad brief for a model of a very modern gallery director.
She is a big adorer of things from her green tea to New Zealand art, of course, and in particular Bill Cuthbert, and also of course, her husband, the multi-media artist, Tim Gruchy.
On Wednesday it was their ninth wedding anniversary. "I'm madly in love with him!" She showed me her wedding ring, made by a jeweller friend, of "Indian rubies and tiny diamonds and a topaz, which is my birthstone." It is an ornate and old-fashioned and lovely ring. "Thank you! I wanted something kind of Etruscan and generous."
She does yoga. I guessed that she would. "Ha, ha. Yes, wears black; does yoga." It is just as well she does because she is fairly fizzy, which is why she no longer drinks coffee. "I get pretty excited anyway."
She is 52 and she and Tim haven't had children although she would have liked to have had one or two but she has always been "consumed" by her career, and: "I was just busy working, really." She comes to the gallery from the Govett-Brewster in New Plymouth where she lived "in a cow paddock" and planted an acre of garden, in New Zealand natives, which I might also have guessed. But she looks more like a city girl, and she is really. Now she and Tim live in an apartment in Vincent St and she walks to work. The only way to cope with such a lifestyle change, she says, was to change everything. She adored the Govett-Brewster and burst into tears when she told her staff she was leaving.
She was born and grew up in Brisbane where her father was an architect and artist and a charming "Don Juan" who broke a lot of hearts and died early at 59. Her mother was a nurse who became a veterinary assistant. She had a happy middle-class childhood. "Of course my parents broke up, like all middle-class parents," because of all the Don Juan-ing about, when she was 14. She says this was terrible and had a huge impact on her but she remained close to both parents, and her three siblings. Her sister is a breast physician and "a saint"; one brother is an architect and the other a builder.
Her name, by the way, is a family one. It is an Anglicised version of the male Indian name, Rana, which means Prince - a great-grandfather spent some time in India. She has spent some time in India, and people who haven't met her expect a man and get rather a surprise, as you would.
I'd have written that she was an Australian but she says she doesn't think of herself as Australian; she is "Australasian". That is a good answer because there were a few predictable mutterings about another Australian getting the job. (The just-departed long-term director, Chris Saines, was also Australian.) Hamish Keith, the art commentator, tweeted his disappointment that the Christchurch Art Gallery director, Jenny Harper, had been passed over in favour of Devenport. Mutterings don't bother her. She's as tough, I'd say, as her Trippen boots. "Oh, that's his prerogative. It's perfectly fine," she said, airily, of Keith's tweet.
She'd rather talk about galleries. She said: "Spaces of wonder. I believe in that, firmly. Sites of empathy, encounter and a platform for the imagination. That's my little dictum about what museums should be."
Not being an art gallery director, I have little idea what that actually means. She talks in that peculiar way peculiar to arty people, which, given that she is an arty person, is entirely to be expected. I was more interested in her hair. It's very, very long! She has always had very, very long hair and likes the idea of cutting it very, very short when she is 70. I was also interested in her salary. She said she had no problem with telling me but she had to first find out whether she was allowed to tell me.
She said she'd call me the next day and I thought: Oh, yeah. That'll be the end of that. What a mean-spirited person I am. She called the next day and told me she gets $195,000. I said that should keep her in Trippen boots and she laughed and said, yes, but given what her counterparts in Australia, say, get paid ...
She believes in openness and inclusiveness. When she phoned about her salary she'd just had her first staff meeting which she was fizzing about. She is the only person I've met who manages to make a staff meeting sound like a really good fun party. She is apparently good fun at parties and somebody told me that she's a terrific dancer. She looked a bit horrified. "Who told you that? That's funny!" She managed to turn her farewell do at the Govett-Brewster into a party, with dancing - at 5.30pm on a Friday.
She likes bright lipstick and she is rather beautiful; she has very strong features and I wouldn't want to mess with her. She likes artists, obviously, not least because they can be difficult people. She likes difficult people, perhaps.
"Yeah. Why not?" Is she difficult? "Oh, some people might say so. I don't think so. I'm quite determined, you know. I follow through."
She will want to make her mark at the gallery which I'd have thought would be a daunting prospect, and tricky to manage. Hers is, as she says, a big and important job. She is not a person easily daunted by a big and important job. "Strangely, no." Does anything daunt her? "Oh, yes! I mean I have massive doubts like everyone else." About what? "Oh, you know. About making the kind of difference that I want to make in my life. I really want to have made a very positive contribution to the world. And every day matters."
She began her career as an art and theatre teacher, and as an artist. I wondered whether she gave up being an artist because she realised she wasn't good enough but, no, she was a very good artist. "Yeah!" She went into art curation and galleries because: "I felt I could contribute. I was always very interested in working with people and in relationships and affecting those relationships in a positive way. So I felt I could affect people more working in an art museum than being an artist myself. I'm very good at making connections."
She is not much interested in anything but art, and artists. "Oh, I adore them!" But other than that: "Oh, not much. The environment." Perhaps she thought that sounded a bit limiting, so she had a think and came up with modern opera and dance which made me laugh because what are they if not art?
She went on holiday before starting at the gallery and decided to go to Japan because "I wanted a significant holiday break because all my breaks are to do with art. And of course what do I do? Go to a biennale and a couple of museum openings."
I asked if she was an art snob (one would hope so) but she is very good at the diplomatic side of being a gallery director and with the media, so she repeated the question, which she does a lot, to buy time - it is a politician's trick.
My trick to out her as an art snob was to see if I could get her to agree that the suffrage memorial tiles on the stairway in Khartoum Place were absolutely ghastly and should be removed. You try tricking a diplomat. She said, "I think they should be saved but I wouldn't say that they should stay there." But does she think they're hideous? And bad art, or not even art at all? "No. They're of their time. And they shouldn't be destroyed. They should definitely be kept. Art is a very broad thing." So, the answer is, yes, of course she's an art snob.
She said, about Choi Jeong Hwa's giant inflatable flower sculpture in the atrium: "I adore it." I said it was slightly scary. "Slightly scary is good. I like slightly scary. Very beautiful, slightly scary and quite mad is a good combination."
It is. It might also be a good combination in a new director. I'm just not sure about the quite mad bit, but hopefully she's capable of a degree of madness. It'll be interesting to see how she makes her mark on the gallery. Is she going to shake the place up a bit? "I'd hope so," she said. I'd be utterly amazed if she didn't - and so would she.