A celebrated children's author-turned-publisher has left the country, with a trail of unpaid debts and angry authors in her wake. Phil Taylor investigates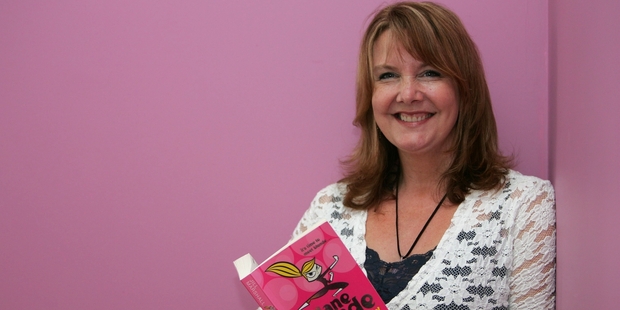 It started so promisingly and ended so horribly. Twenty months ago Jill Marshall was a local hero, albeit an adopted one. In 2011, Next magazine chose her as its Woman of the Year (arts and culture), an honour still listed on her profile on internet site LinkedIn.
Marshall is now back in England, having left behind a posse of irate and disillusioned authors, a trail of debt and no forwarding address. A "desperately-seeking-Jill" message by one of the authors on Marshall's Facebook page has gone unanswered, attempts to contact her by email and via the two vice-presidents appointed to her company have proved equally fruitless.
Two authors have won Disputes Tribunal claims, another has hired a copyright lawyer to stop what he claims are "unauthorised" sales of his book by England-based companies, and a complaint has been made to British police about what became of the proceeds of a charity book.
All of which is a far cry from how Marshall's venture into publishing began.
The accomplished author of 14 books, including the "girl-spy" series Jane Blonde, which sold in 22 countries and was translated into 10 languages, her success as a writer, however, didn't translate to financial success.
Marshall was "outraged" with what was happening to her career as an author. "Poor communication, poverty, lack of promotion, feeling unloved and unwanted, and having no control over many rights issues were just some of the topics that fuelled my fever," she wrote in an article in February 2012 promoting her own fledgling publishing company.
Surely, she figured, those who created the books - the authors and illustrators - should be those who were most connected and supported.
"I began to recognise that many areas of the traditional publishing chain were just not working - or if they were, it was for the wrong people."
With the era of the e-book came the chance do something about it, but the unlikely catalyst was the devastating February 2011 earthquake. A Christchurch client, Emma Pullar, wanted to publish her children's picture book, Curly from Shirley, the Christchurch Dog, as a fundraiser. Designers, illustrators, distributors offered their services for free and when a willing publisher couldn't be found for the desired fast turnaround, Marshall formed her own publishing company, Pear Jam Books, and got the book out in a month.
The name reflected her vision for the on-rushing future of publishing. P for Play (game, app, film), E for e-book, A for audio and R for "read in the traditional print version which so many readers still love, and which many authors still see as the ultimate validation". Jam stood for Jill Marshall, with an A for artist.
"I'm hoping to give (authors) what I missed out on: creative input and control, regular communication, a support network ... Oh, and proper payment and recognition," Marshall wrote in February last year. "This is a long-term relationship and it's important to get it right."
In its first year, Pear Jam Books delivered quality books that were well-edited and produced to a high standard. One of its authors, who did not want to be named, told the Herald that the structure then was similar to a traditional publisher. Several of Pear Jam's authors had been published before, some had won awards, and none were asked to pay Marshall any money.
The books were stocked by several shops, including Whitcoulls. The author is not aware of any royalties being paid, something she put down to Marshall not covering costs until she learned of unpaid production bills.
"Unfortunately, I have no real idea how well any of the books have done because of the lack of accountability. Given Jill's initial promise that the author would be the most important part of the company, that has been particularly disappointing.
"Jill is an extremely persuasive woman and her ideas were often good. The problems came in follow-through. I'm not sure exactly what went wrong, other than a lack of business skills, but I know that pretty much everyone involved with Pear Jam Books has been disappointed and shocked by the outcome."
Problems began to appear later, with a second group made up mostly of first-time authors, who each paid $10,000 for a "partner-publishing programme", whereby Marshall's company contracted to provide coaching, marketing materials and book production in various formats including a printed book "to industry standard".
There seems to be no quibbles about Marshall's ability to coach writers or appraise manuscripts; the complaints boil down to what they consider to be poor production, lack of accountability and inadequate communication. Problems included an instance of a key connecting sentence missing, blurred type, words running to the edge of the page, spelling and grammatical errors and what some who spoke to the Herald considered amateurish covers. Some authors felt short-changed, others had stronger opinions.
Marshall herself appears to have had a business coach. The evangelical-toned website of "Rich German's Epic Coach Academy" carries endorsements from happy customers, including this under Marshall's name and photo: "I used your actual words to close the deal with most of the clients. Then when it was time for the first call, I got my notes out from the first Epic call and used them verbatim, apart from I said 'publishing' where you said 'coaching'! You convinced me to promote a $10,000 coaching package and I am SO glad I did! I made 10 sales in just 2 weeks and made $100,000!!!!"
A note from American mentor "Rich" commends the "incredible story of my client Jill Marshall in New Zealand who literally went from having the power in her home shut off to earning $100,000 in just 30 days. Please enjoy her story of going from powerless to POWERFUL."
One author told the Herald he objects to being called "a sale". But by the time they saw the comments, Marshall's relationship with many authors had dramatically broken down. Some were concerned when she relocated to England in December but it came to a head in June when, in response to a series of questions from clients, Marshall sent an email effectively sacking them and returning the rights to their work. "You may all have your rights back immediately," she wrote, "I'll forward any royalties to you in their entirety ... Please don't expect any further correspondence with me in either direction." And, with that, she disappeared.
Soon after, Lee Stuart made inquiries on behalf of his fellow authors and quickly found five creditors, the biggest being Image Centre, which told him it was owed about $55,000. A designer who did plenty of work for Pear Jam since its inception told the authors she has never been paid.
"I had been given an assurance that I would see money for each book, as you'd paid to be in the programme and the money was accounted for ..." she said.
Kingsland Print, owed about $5000, was unhappy to learn Marshall auctioned her pink Nissan Micra - with a boot-load of company books - at a Pear Jam function at Auckland's Stardome (another creditor) on the eve of her departure to England and said she would give the proceeds to the SPCA. Kingsland Print had received a letter from Marshall in which she said Pear Jam was in liquidation. However, it is currently listed by the New Zealand Companies Office as a going concern. The same might be inferred from Pear Jam's page on the website of global rights network PubMatch, where it states it is in the business of "buying and selling rights" and is "seeking new authors".
Last week, the Herald received this note from Emma Pullar: "I am disappointed and saddened about the closure of Pear Jam Books and the way it was handled. Investigations in regard to the company's handling of Curly sales and proceeds are underway and therefore ... I am unable to comment any further at this time."
Marshall has previously stated that "all profits" and "all proceeds" from the book would go to the Red Cross quake appeal and a year ago said it had sold 3000 copies. The Herald asked Red Cross how much it had received.
"Due to privacy laws the New Zealand Red Cross does not divulge information about an individual's donation without their consent," it said and referred us back to Pullar.
Pullar: "I can only tell you that the $380 donation I made for books I bought for family members last year did not reach the Red Cross. All print costs had been covered by that point." Unable to contact Marshall, Pullar has filed a complaint with the British police.
Two authors recently gained a New Zealand Disputes Tribunal order that Pear Jam Books refund part of the money they paid.
S.J. Main was awarded $5150. Collecting may be difficult as none of the authors know how to contact Marshall. But it was important, Main said, to have an official decision to stand against Marshall's assertion in one of her last emails to clients that they had received all they were due "the full six months of coaching and training, continued personal support ... extensive editorial input, all the requisite book design, full e-book conversion, substantial proofing and copy editing, print preparation, etc ... so the contract has been fully honoured".
Jessica Copping, another author, says it is not a story of gullible desperate authors taken by a smooth-talking con, but a broken business agreement with a proven professional many thought was a friend. She was recently contacted by a new client of Marshall's who told her she paid for script appraisal, only for Marshall to drop out of contact after six weeks.
"It's a bit like a case of a cowboy builder who gets paid to do important work on a person's house," says Copping, "but does shoddy work and then disappears, leaving the client with a big mess and (no) money to chase them or get someone to clean up the mess."
When the relationship broke down, the work of some authors had already entered the distribution chain and is listed for sale on some overseas websites. Having flawed versions on the market is bad for business and the fledging authors' credibility, says Stuart. A lawyer is negotiating for his book to be removed from two British-based online vendors.
"Sounds strange, I know. I mean, how many new authors have to fight to be unpublished?"
The Herald's efforts to contact Marshall have been unsuccessful. Her known email addresses don't work, available phone numbers are not current and Pear Jam's two vice-presidents have not responded to requests for an up-to-date contact.