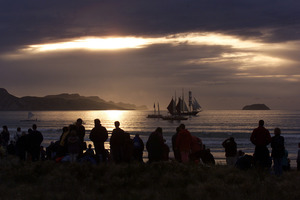 The clock is ticking now for the crew of the New Giant, with a departure from Gisborne likely any day.
A shipping industry source has heard there has been some progress in receivership negotiations.
The ship has been under lock and key in Poverty Bay for just on seven weeks, since creditors of the STX Pan Ocean owners obtained a court order to seize it.
The owners filed for bankruptcy in the central district court in South Korea in mid-June.
The High Court of New Zealand has been responsible for the ship since it issued the writ.
The industry source said the ship could leave any day.
"Though I would be surprised if it happened this week," he said.
"It could take a week to line up all the ducks, so I would expect to see the ship released sometime next week."
A spokesman for one of the creditors said the matter was progressing through the courts but he was unable to confirm whether it had been resolved.
A High Court of New Zealand spokesman said no request to lift the detention order on the New Giant had yet been received.
- REUTERS reported earlier this week that the Korea Development Bank was considering a financial injection into the cash-strapped company.
The article said the bank is STX Pan Ocean's main creditor and the amount of the financial injection was unspecified.
"The company's shares have shot up as a result," it said.
It has been reported overseas that the company was restructuring in several ways, including selling some of its ships and returning some chartered ships to owners.
STX Pan Ocean went into receivership after accumulating almost US$5 billion in debt.
One report said: "STX Pan Ocean's ships have been arrested for late payment of bunker bills and we can't be certain if it has settled those outstanding bills."
An STX Pan Ocean spokesman is quoted as saying: "The company has been slow in releasing funds for payment, for which it needs to get court approval.
"We're appealing to our suppliers to be understanding, and we will settle the bills eventually."
The company was also taking legal action to get overseas courts to support the company's rehabilitation process, he said.
"We want to stop our owned and chartered-in ships from being arrested."
A shipping industry source said that once the New Giant was released by the court, it was possible it could dock in Gisborne and take on a consignment of logs.
- Gisborne Herald