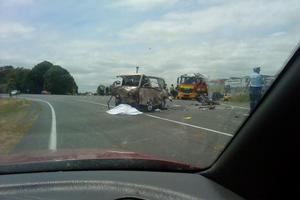 The man held responsible for causing one of New Zealand's worst motorcycle accidents has plead guilty to his part in the tragedy.
Owen Micheal Brian Parnell, 25, of Wanganui, admitted charges of careless driving causing death and careless driving causing injury before Judge Allan Roberts in chambers at the Hawera District Court today.
Parnell was driving a van near Normanby, north of Hawera, on December 1 last year when he collided with a group of motorcyclists on a toy run, killing two and injuring four others, including one of his own passengers.
Parnell was himself seriously injured in the crash and required nine operations at Waikato Hospital.
Today's guilty plea follows comments by Parnell's cousin last month that the injured man had hired a private investigator and lawyer to clear his name over the crash.
Waitara wood merchant Kelly Richard Reardon, 40, and Gordon Thomas McKay, 68, of Bell Block, New Plymouth, died after the horrific crash on a rural southern Taranaki road.
One of the dead men was wedged under the crashed van.
The bikers had been riding in small groups around Mt Taranaki on a sunny summer's day to deliver toys for under-privileged kids.
Parnell will be sentenced at Hawera District Court on September 2.
For more articles from this region, go to Wanganui Chronicle