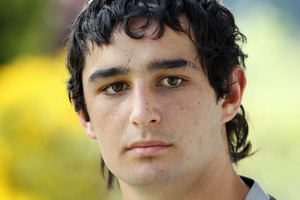 A talented young Hawke's Bay rugby player whose cousin is an All Black has admitted six counts of burglary.
Vinny Guildford, 17, a current Hurricanes under 18 representative, has also played for Hawke's Bay and in the first XV of his high school team.
His first cousin is All Black Zac Guildford.
Vinny Guildford appeared in Napier District Court today where Judge Geoff Rea declined permanent name suppression and sentenced him to 200 hours' community work and nine months' supervision.
The court heard that on March 30 of this year Guildford had been drinking at a property in the Napier suburb of Taradale before he unlawfully entered six properties on two suburban streets as he made his way home.
From the garage of one address he stole a $2000 racing bike, which he stashed in bushes outside the house.
Judge Rea said it could be assumed he stashed it for later collection.
From a number of other addresses he also stole a cellphone, perfume, keys, a skate board and frozen food.
Guildford's lawyer, Michael McAleer, sought for his client to be discharged without conviction and for his name to be permanently suppressed.
Judge Rea said the offending was serious and despite the fact it was a first offence could not be dealt with by way of discharge.
In application for permanent name suppression Mr McAleer referenced past media attention on the Guildford family and said much of the reporting had been "sensationalist".
He said allowing Guildford's name to be published would cause hardship for his family.
In response, Judge Rea asked: "You don't think this young man would have been aware of that before he went out and burgled six houses that night?"
Judge Rea said he could not allow name suppression based on how the media may report the offending.
Mr McAleer said Guildford was sorry for his offending and for dragging the family back into the public arena.
For more articles from this region, go to Hawkes Bay Today