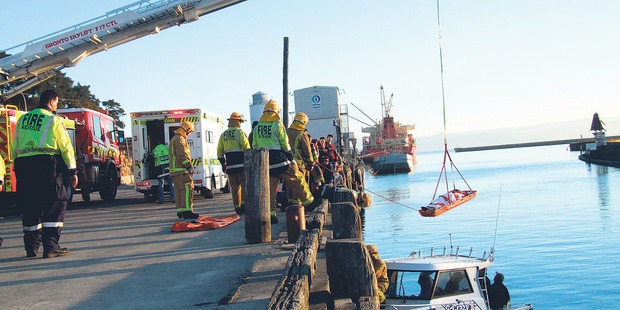 A man is in intensive care unit at Gisborne Hospital after a spectacular accident in the harbour yesterday afternoon in which an out-of-control pleasure boat crashed into the wharf.
The mishap sparked a full-scale response from police, the fire service and St John ambulance at about 4pm.
Witnesses saw an eight-metre White Pointer aluminium boat travelling at speed up the harbour channel, with no one visibly at the wheel. Children on board were screaming.
"I had just finished pulling my boat up the boat ramp when I saw it coming," one witness said.
"I got my daughter who was with me out of the way because it looked like it was making for the ramp.
"When it got opposite the No. 2 overseas wharf, it suddenly veered off and hit the river training wall, rebounded off it, then veered again and smashed into the wharf near the ice shed."
Off-duty fireman Charlie Mugridge ran down to where the boat hit, and joined a couple of other men who had been fishing nearby.
"We jumped into the boat to help the three people on board."
The 41-year-old man operating the boat and two of his family members, both girls aged 12, suffered what St John staff described as minor injuries.
"The guy was unconscious when we got on to the boat but he came round. We stabilised him and monitored him until the ambulance crews arrived.
"The girls were very upset and we made sure they were OK too," Mr Mugridge said.
A St John paramedic said the man had suffered a medical condition.
"That's what caused the boat to go out of control," she said.
The craft hit the wharf with considerable force.
"It broke one of the old wooden piles, and got hooked up underneath in the superstructure of the wharf," said Station officer Chris Grimson.
"The front of the boat was badly buckled but it was still floating OK."
Firemen used their aerial appliance extension ladder to lower a basket stretcher on to the boat.
"We lifted the man and two girls off one at a time and on to the wharf, where they were transferred to an ambulance," the St John paramedic said.
Firemen later helped to return the damaged boat to the boat ramp, where it was hauled out of the water on its trailer.
A Gisborne Hospital spokeswoman said this morning the man was in the hospital's ICU in a stable condition.
The two girls were discharged from hospital yesterday.