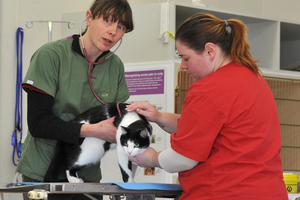 About 60 "flat cats" came a step closer to domestic bliss at a clinic in Dunedin for the cats of tertiary students.
Otago University Students' Association (OUSA) animal welfare officer Lucy Gaudin said OUSA, Otago Polytechnic's Veterinary Nursing School and staff from five Dunedin vets held the clinic at the polytech yesterday.
The cats' owners were offered a "care package" for $20 to promote responsible pet ownership.
"Dunedin has a serious problem with wild cats, as well as adopted cats, that are not looked after. By providing cheap microchipping and registration, any pets that are lost or left behind can be reunited, and any owners found to be neglecting their pet can be followed up by the SPCA."
Green Island vet Dr Scott Drummond said he gave seven cats a health check-up, micro-chip and registration, de-worm and vaccination in an hour yesterday.
He donated his time to the clinic to raise awareness on the importance of microchipping cats for identification and providing basic health care for cats.
He said the aim was to promote a message of being a responsible owner, "rather than owning a stereotypical flat cat, that gets a hard life".

University of Otago student Alix Atkinson-Waakelin, 22, of Wellington, said she found a feral kitten when visiting a friend on a Mosgiel farm.
She lived in Northeast Valley and came to the clinic to domesticate the grey kitten she called Temari.
"It's an exciting day. I don't know if it's a boy or a girl."
She would take Temari home to Wellington when she finished her study at the end of the year, she said.
Ms Gaudin said it was hoped the clinic would be run again next year.