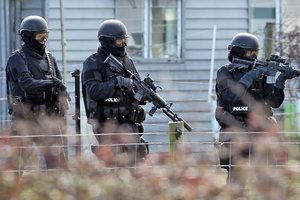 Members of the Armed Offenders Squad stormed the Outlaws Motorcycle Gang pad in Napier today, executing a search warrant in which police found methamphetamine, cannabis and three firearms.
The AOS was used in the raid as there were likely to be firearms, police said.
Detective Senior Sergeant Dave de Lange of Hawke's Bay CIB said the amount of methamphetamine and cannabis found had yet to be determined. Three firearms - a handgun and two shotguns - were also found during the search.
Police were still speaking with the occupants of the building and no arrests had yet been made.
For more articles from this region, go to Hawkes Bay Today