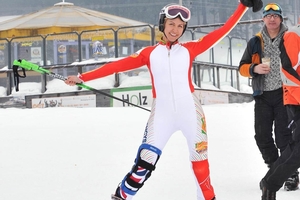 Heather Mills, former wife of Beatle Paul McCartney, is coming to Queenstown for the Winter Games in pursuit of her Olympic dream.
The charity campaigner and former model, who lost part of her left leg in a road accident in 1993, is now part of the British Disabled Ski Team.
Mills, 45, will race in two World Cup-rated Adaptive Slalom events at Queenstown's Coronet Peak next month, aiming to secure qualification for the 2014 Winter Olympics in Sochi, Russia.
Mills recovered from a broken shoulder, broken thumb and injury to her amputated leg to last year win gold at the Austrian Super G Ski Speed Race.
Mills followed that with four gold medals at the USA National Championships World Cup and two golds on Aspen's formidable Tiehack speed course.
Audi Quattro Winter Games chief executive Arthur Klap confirmed Mills was set to compete in two races in Queenstown on August 22 and 23.
It's the same discipline which Kiwi adaptive ski racer Adam Hall dominated at the 2010 Winter Olympics.
Mr Klap said: "She's been in the British team for a few years now. We've got a really strong British team coming out."
Mills and the British team are expected to spend six weeks training in New Zealand.
After the Winter Games, Mills is expected to compete in two associated events at Mt Hutt in Canterbury.
- Mountain Scene