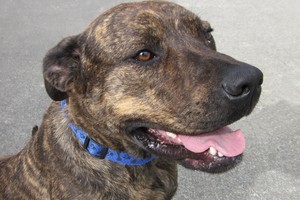 A mental health worker was savaged about the head and neck during an attack by two dogs while she visited a client in Whangarei.
The woman needed at least two operations to treat her injuries and is now recovering in hospital.
The mental health worker, employed by the Northland District Health Board (NDHB), was attacked while visiting a client on Hatea Drive, Whangarei, just before 11am last Tuesday.
The two dogs believed to be involved in the attack have now been seized by Whangarei District Council contractors. One was euthanised shortly afterwards and the second is in the Whangarei Dog Pound after being picked up yesterday by Environmental Northland staff, supported by police.
The Northern Advocate understands that as the woman knocked on the client's open door, a dog came running straight at her and attacked.
A Whangarei District Council spokeswoman said it was initially believed only one dog was involved but after interviewing witnesses it became clear two dogs had bitten her.
Animal control staff were called to the scene by police, who were called by neighbours who witnessed the attack.
The woman is understood to have been savaged about the head and upper body, including puncture wounds to her neck.
The owner of the dogs is believed to have jumped on top of the woman to try to prevent further injuries. Neighbours then came to help and police were called.
The owner surrendered a dog to Environmental Northland staff, who carry out animal control work for the council. The dog was euthanised the same day by a veterinarian at the dog pound in Kioreroa Rd.
It is not known if the owner of the dogs was injured in the attack.
However, after interviews were conducted with the woman and witnesses it was confirmed that two dogs were involved and the second dog was seized yesterday as the owner was walking it near Mair Park.
One of the dogs was believed to be a mastiff cross while the breed of the other dog is not known. No charges have been laid against the dog owner, but the matter is being investigated. The council's dog control staff are understood to have had dealings with the dogs' owner on earlier occasions.
NDHB chief executive Nick Chamberlain said the health board was supporting the mental health worker and wished her a speedy recovery from what has been an extremely traumatic experience.
"I am extremely saddened that one of our valued staff has been badly hurt in an incident that should not have happened," Dr Chamberlain said.
"Many of our staff are providing care for patients in their homes and the community, and it is essential that they are safe to go about their duties without fear of being harmed."
The incident follows an attack in Auckland on Sunday in which a woman suffered deep bites to her forearm and thighs after being rushed by a dog which dragged her to the ground in Epsom.
For more articles from this region, go to Northern Advocate