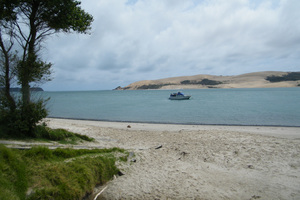 The body of a man found in the Hokianga Harbour will be released to his family for burial as soon as his identity is confirmed.
Police believe the body found on a beach near Opononi, about 3pm on Sunday is that of Darrell "Deli" Hamilton-Singh.
Mr Hamilton-Singh, 46, a father of three boys, had not been seen since he set his net on a tidal flat at Motukauri, on the northern side of Hokianga Harbour, about 3am on July 9.
Extensive searches during the past two weeks failed to turn up any sign of the man, but Whangarei police Search and Rescue boss Senior Sergeant Cliff Metcalfe said it was likely the body was that of Mr Hamilton-Singh.
However, the body could not be released to his family until the formal identification process had been carried out, Mr Metcalfe said, which could be today.
Once the coroner was satisfied that the identification had been formally made, the body could be released.
It is up to the coroner to establish cause of death.
"It's highly likely it is Mr Hamilton-Singh, but the correct process has to be followed to make sure we've got everything right and the coroner is satisfied we've got the identity right," Mr Metcalfe said.
"It will be done as soon as possible so the family can have some closure."
The body was found by a couple walking on a beach at the end of Brindle Rd, on the southern Hokianga Harbour, almost directly south, on the other side of the harbour, from where he went into the water. Mr Metcalfe said the beach had been searched several times during the hunt for Mr Hamilton-Singh.
Mr Hamilton-Singh's partner said the family was grateful for all the support and help from people, particularly during the many searches.
The woman said it had been exhausting work for all concerned and she was pleased her partner was finally found.
The family was thankful that the body had been found but were waiting for conformation of his identity and delivery of Mr Hamilton-Singh back to the Hokianga so his tangi could be held. It had been hoped to hold the tangi on Thursday, but that was unlikely now.
"We want closure, but we've just got to wait," she said.
A rahui placed on the area stretching from Rangi Pt to Motukaraka would remain in place until after Mr Hamilton- Singh is buried.
For more articles from this region, go to Northern Advocate