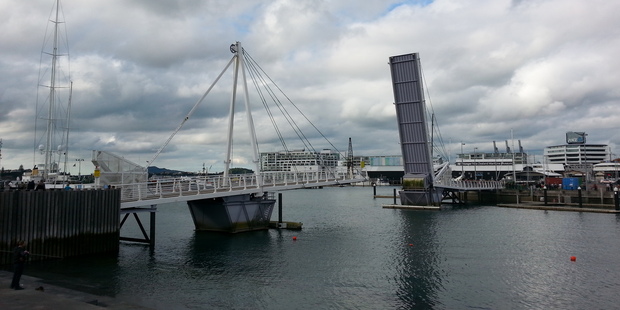 Engineers are trying to establish why one of the cables that raises Te Wero Bridge at Auckland's Viaduct Harbour snapped yesterday.
The 100m bridge, designed by Hyder Consulting and built at a cost of $3.7m, is raised to allow boats past.
A Waterfront Auckland spokesman said the incident happened about 2.30pm yesterday as the bridge was being raised.
"On the western side of the bridge there was a glitch with one of the cables so it didn't get raised properly and came back down.
"It dropped and when it got towards the bottom it bounced slightly."
There was no risk to the public because pedestrians were not allowed near the bridge when it was being raised, the spokesman said.
Engineers were trying to establish what had caused the fault.
"It's not usual, obviously. It could have been wear and tear but we'd need to do a proper inspection to find that out.''
The faulty half of the bridge remained lowered for the remainder of the day while the other side was raised so boats could go through.
Pedestrians going to and from Wynard Quarter had to walk the long way around, adding another 10 to 15 minutes to journey times.
The bridge was fully operational again by this morning.
- APNZ