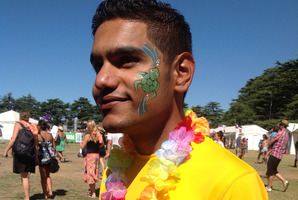 An Indian student "missing" for more than a month has been found alive and well - hiding out in South Auckland with his girlfriend.
Ankur Sharma, 23, last contacted his parents and sister in early June. He was last seen in Manurewa on June 9, the same day he was admitted to Middlemore Hospital after being assaulted at a train station. He was treated for minor facial injuries and discharged shortly afterwards.
Police have been appealing for information about Mr Sharma for weeks and said yesterday they had found him at an address in Papakura.
The Herald has learned that while Mr Sharma was reported missing, he was with his girlfriend in South Auckland and was hiding from those looking for him.
Mr Sharma's family hired private investigator Danny Toresen to help find out what had happened to him and were also offering a $500 reward for information.
Mr Torenson had been handing out flyers in the central Auckland area after a possible sighting of Mr Sharma in the area. The student had not accessed his bank accounts since the end of May.
Police said soon after Mr Sharma was reported missing that they did not suspect anything untoward had happened to him, and that he was out of contact with his family and friends by choice.
Yesterday they thanked the public for assisting with their investigation.