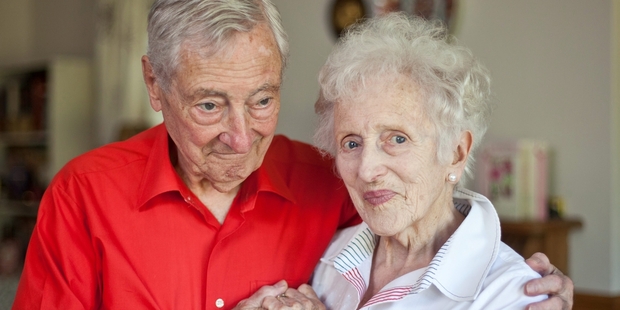 After 70 years of wondering what he had done wrong to lose his wartime sweetheart, a British man will finally marry his love this weekend.
Christchurch woman Bernie Bluett, now 87, moved from Britain to New Zealand during World War II after her disapproving parents failed to pass on love letters from Bob Humphries, now aged 89.
Her parents' interfering actions, she said, were "devastating" and changed her life.
The sweethearts met as children when Mr Humphries' family, from London, holidayed in Mrs Bluett's hometown in North Devon.
Mrs Bluett told the Daily Mail she used to "tease him mercilessly" - but that changed when they saw each other again as teenagers during World War II.
"I saw him when I was 17, and he was 18, and he was this handsome soldier in khakis.
The hormones were running wild. I thought, 'I'm going to marry that man one day' but I never said a word to anyone," Mrs Bluett said.
"There was something between us. We didn't say a word, but there was a terrific attraction," she told the Express.
The pair dated but then Mrs Bluett joined the Royal Air Force and Mr Humphries was enlisted in the army. The soldier wrote to his sweetheart - but unknown to them, Mrs Bluett's parents did not pass on the letters.
After two years of silence, Mrs Bluett married a Kiwi RAF pilot, Roy Bluett, who she cared for as a military nurse. She and her husband then moved to Christchurch, where they had two sons and a daughter.
Mrs Bluett's husband died 11 years ago and Mr Humphries' wife, Beryl, died last year.
It was only recently that Mrs Bluett and Mr Humphries found each other again, after Mrs Bluett's daughter put them in touch. They swapped numbers and spoke on the phone for the first time in 70 years - and were finally able to see they might have spent their entire lives together.
She told the Express: "I didn't know what I would say when I was waiting for that call. It had been too long, too much time had gone by. When I answered the phone, all he wanted to know was what had happened to me. He asked me what he did wrong.
"I didn't say anything, I just burst into tears."
She moved back to Britain and the reunited couple will marry this weekend at St John the Baptist Church in Pawlett, Somerset.
Mr Humphries told the Express he thought "well here's a couple of elderly people who could help one another in one way or another, so the decision was made [to get married]".
Mrs Bluett said her parents' actions had changed their lives.
"We were absolutely devastated. It is an awful thing to interfere in someone's life like that. Just awful. All the time we lost," she said. "We have both had good marriages, good lives. But we always wondered what happened. It's a terrible thing."
However, the pair remain upbeat about their future together.
"We may only have a year together but it's a year we never had. We are both old, both unwell, but we feel as though we are 18 again. Happiness is everything. Needless to say, he is a hopeless romantic and so am I."
- APNZ