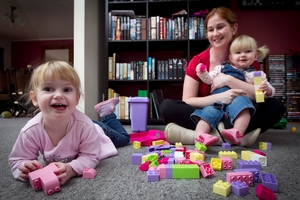 Kirsty Davis knows the lifestyle of celebrity mums is unattainable for her, and she's happy with her reality.
The 24-year-old mother to two daughters under 3, works part-time and is studying to become a pharmacist technician.
She said the juggling act was achievable with the support of her husband and mum.
Mrs Davis works weekend shifts at a pharmacy attached to an accident and emergency clinic in Takanini.
Then as a stay-at-home mum during the week she is the main caregiver to daughters Aleasha, 2, and Gabrielle, 16 months.
When the girls go down for a sleep at noon she manages a couple of hours of correspondence study on top of organising the nightly meal and doing the washing and housework.
Mrs Davis said she could not afford a nanny even if she wanted one but she was not someone who needed to "keep up with the Joneses".
"There's nothing wrong with wanting to have nice things and live a nice life if you can afford it.
It's all very well having a nice house but it's how you are as a family that makes that house a home."
Recently she worked a 50-hour week and "got a taste of what it would be like if I went back to work fulltime".
"It is exhausting to be a parent and it certainly is hard but at the same time it's also very rewarding."