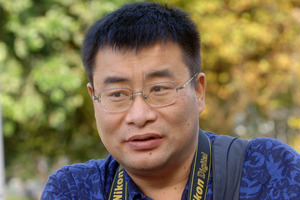 A Chinese New Zealander who entered China illegally to see his elderly parents claims he was detained, chained and tortured for five days before being deported to Auckland.
Nick Wang, 52, a former Wellington- based Chinese newspaper editor, believes he has been black-listed by Beijing and said his application for a visa to visit his homeland had been declined 18 times in the last 10 years.
Desperate to see his sick 88-year-old father and 85-year-old mother one last time, he changed his name by deed poll to Whakakingi Danzangiin Gonpo - but still failed to get a visa under his new passport identity.
"I decided that the only way I could my parents again is to enter China illegally, through Mongolia," said Mr Wang.
"It's a big risk and I got caught, but that does not give them the right to treat me like an animal."
He managed to get to his parents' home in Hohhot, but was tracked down and arrested after three days.
Mr Wang alleged that for five days after being arrested, he was handcuffed, chained and interrogated at the Hohhot Detention Centre in Inner Mongolia.
Mr Wang said authorities would not let him rest or have a toilet break.
"I was not given a chance to call my family or lawyer, and they wouldn't let me sleep," he said.
Comment was being sought from Chinese officials on his claims.
A Ministry of Foreign Affairs spokesperson said the New Zealand Embassy in Beijing was notified of Mr Wang's detention last Friday, two days after his arrest.
"In terms of our formal consular agreement with China, the embassy is required to be notified within three days if a New Zealand citizen is arrested, committed to prison or custody pending trail or is detained in any manner," the spokesperson said.
"The embassy proceeded to arrange a consular visit to Hohhot to check on his well-being and to extend consular assistance."
The spokesperson said Mr Wang spoke to staff at the embassy in Beijing about his treatment in detention after he was deported back to New Zealand on Monday.
"If he makes a formal complaint, the ministry can advise Mr Whakakingi (Wang) on an appropriate course of action."
Mr Wang moved to New Zealand 21 years ago, and started the Capital Chinese News in 1998.
In 2002, his relationship with the Chinese Embassy in Wellington soured after he covered the visit of Wei Jingsheng, a Chinese democracy campaigner who was jailed in China for 18 years.
In 2004, he again angered the embassy for running a full- page spread with pictures of tanks to mark the 15th anniversary of the Tiananmen Square massacre.
Despite being an accredited press gallery journalist, Mr Wang was blocked from entering Parliament for a photo opportunity with visiting Chinese vice-premier Zeng Peiyan in 2007.
Mr Wang rejected suggestions that he was a Falun Gong member, but said he practised a form of qigong called Soaring Crane.
Immigration New Zealand said Mr Wang had "made claims concerning his treatment in China" to an Immigration staff member at Auckland Airport after he arrived on a China Southern flight.
"Details have been passed on to MFAT as the appropriate agency to deal with such a complaint," said Immigration spokeswoman Rachel Purdom.
Mr Wang said he planned to meet Amnesty International and the Human Rights Commission before deciding whether to lodge a formal complaint through the ministry.