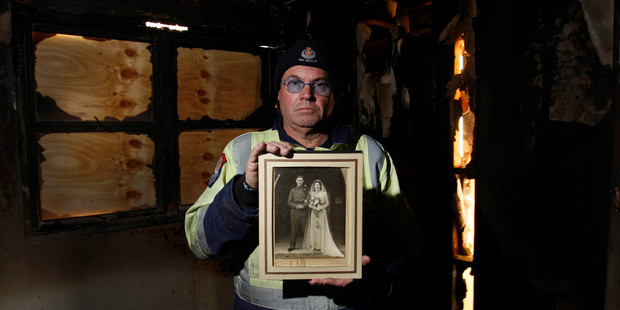 All 92-year-old widow Pearl Sanger wanted to do after a week in hospital with a chest infection was to settle into her well-worn armchair, read her latest crime novel and watch television in her home of 30 years.
But early yesterday, thieves broke in, stole her television, cash and jewellery, then torched the Tikipunga house.
The slow smouldering fire filled the home with smoke before a neighbour raised the alarm.
Firefighters were able to stop the fire spreading from a bedroom but the house was extensively damaged by smoke.
Mrs Sanger's nephew Ray Broad, who spent Saturday tidying the house in readiness for his aunt's return this week said he was gutted.
His aunt, who he has cared for over 16 years, was devastated by the news.
"I had cleaned the place all ready for her to come home. Now we have to work out where she is going to stay."
It was likely Mrs Sanger would remain in hospital for a few more days while a rental property or motel was organised, he said.
About $140 in cash had been taken from a money box.
"She puts away a bit of money to buy books," Mr Broad said.
Mr Broad said the house was insured but expected it could be some months before the house could be lived in.
Fire investigator Craig Bain said it was a heartbreaking case.
'This is a lady who has been sick and just wants to come home to her familiar surroundings and some dirtbags have come in and stolen her stuff and set fire to hide the evidence but it didn't work," he said.
"This tugs at the heartstrings."
Whangarei police appealed to anyone who may have seen any suspicious activity around the house late on Sunday or early yesterday.
For more articles from this region, go to Northern Advocate