Best known for his controversial, thought-provoking religious billboards, St Matthew-in-the-City vicar Glynn Cardy has taken the unusual step of switching from an Anglican congregation to the Presbyterian St Lukes parish in Remuera. The father of four says he is an attention seeker, for the right reasons.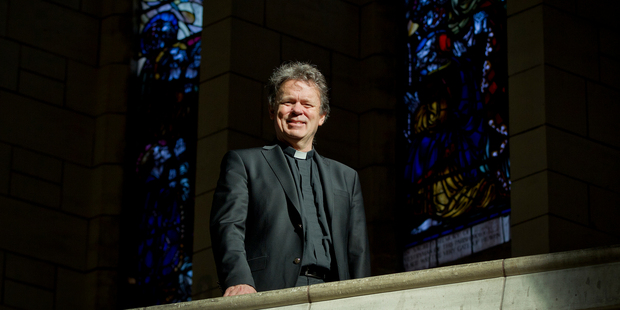 1. What, in your opinion, is the greatest misconception about God?
There is a strong tendency to make God into a being. This "being" God, albeit with super powers, is usually male, with personality and prejudices.
My experience of God is more akin to a source of energy or power. That power is best known in mutual loving relationships.
Hence the phrase "God is love" is not describing a divine being who loves, but is using the word G-o-d to describe a transformative loving energy.
2. Others, like Lloyd Geering, believe God is simply a human construct. Is that very far from your own beliefs?
For me God is more than a creation of the human mind and I want to name that power of love - that sense of awe and wonder and how it touches us, being connected with something bigger than ourselves. I want to name that experience as God.
3. What do you believe about Jesus?
Jesus challenged the social barriers of his day, seriously peeving off the pious. Outcasts loved him. The Romans saw him as a threat to good order, and killed him. Jesus might be found today queuing for some food at the City Mission, or begging on Queen St, or joining the festivities at the first gay wedding. He doesn't do conventional.
4. Are you an attention seeker?
Hopefully every minister is an attention seeker - not for him or herself but for the message of the Gospel.
At St Matthew's we used billboards to engage with people around issues of theology and justice.
Their intention was to encourage a reaction and a conversation.
The feedback received is that we succeeded in that. Many critics cannot tolerate the idea that there is more than one valid Christian view on any subject.
5. Do you regret any of the offence some felt when confronted by St Matthew's billboards?
No.
6. Many traditional church-goers have questioned your ability to switch denominations. Does dogma matter at all?
I think Christians, of whatever variety, have many things in common, and the most important things in common. They try to live in such a way to reflect the love, challenge, and radical actions of Jesus. They believe in love, a God of love, and that love will ultimately triumph. They believe in a community that welcomes and makes room for the stranger, the misfit, and the difficult. For me these are the primary things, and dogmas that arise over time as Christians do these things are secondary.
7. When have you most doubted your faith?
Doubt and faith are not opposites. Rather doubt is the search engine of faith. A powerful experience, say the death of a loved one, may crack a divine image that we'd been carrying. But God is more than any image. So maybe it needed to be cracked.
8. How do you define success?
Loving others and being loved in return. It's as simple and as difficult as that.
9. What is your greatest weakness?
Coffee. Soy flat white. Best served with friends.
I find the strengths/weaknesses dichotomy blasé. Life is like riding a bike. Sometimes I take a corner too quickly and come off. Rather than fixate on why I fell, or on my grazed knee, I want to get back on the bike. Life is too wonderful and too short to worry about weaknesses.
10. How would people have described you as a child and what have you learned since then?
Wildly imaginative. Eternally optimistic. Enjoys his food. I've learned to be eternally imaginative, wildly optimistic, and create my own food. Except for the coffee. I go out for coffee.
11. What really is evil?
Auschwitz.
And all that went into creating it: unaccountable power, prejudice and racism, compliance with authority, the anaesthetising of conscience, the failure of good people to believe and act ...
Auschwitz also taught us that if theology doesn't confront evil it serves evil.
12. What will happen to you after death?
I don't know.
I'd like to think I'll be connected to those I love.