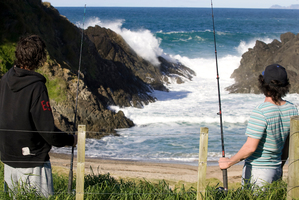 A 29-year-old man who died when he was swept off rocks while fishing at a notorious Whangarei spot yesterday has been named as Mario Openshaw.
Mr Openshaw, who was with his brother and another man, was swept out to sea while fishing off rocks at The Gap, near Taiharuru, 32km northeast of Whangarei yesterday afternoon.
Mr Openshaw's brother jumped in after him but was unable to save him.
Rescue helicopter pilot Pete Turnbull said they found Mr Openshaw's brother about 80 metres off shore, attached by a thin line to people on the beach.
The sea was so rough that if people on the shore had attempted to pull him back, he would have been battered against the "ragged, rocky shoreline''.
"I doubt whether they would have been able to get him ashore under those conditions,'' Mr Turnbull said.
"By the time we got out there it was getting quite imperative that we fished him out before he ended up on the rocks.''
Rescuers were able to winch him up and take him to a waiting ambulance.
Mr Turnbull said he told his rescuers he had to let his brother go.
The brother was cold, but otherwise uninjured, Mr Turnbull said.
Rescue helicopter winch operator Phil Davis-Goff said the surviving brother told him he had tried to rescue Mr Openshaw ``but had lost him''.
They found Mr Openshaw face down in the water, about 500m from shore. His body was recovered and flown back to Whangarei.
Mr Turnbull said the weather was "severe''.
- additional reporting Northern Advocate
- APNZ