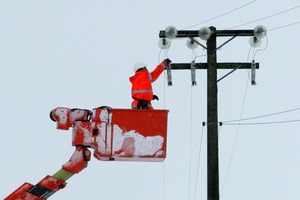 Power crews will be out in Rangatikei today working to restore power to about 60 properties which have been disconnected since Wednesday.
Heavy snow has brought down power lines in the remote area near Taihape.
About half the properties affected are homes.
Powerco spokeman Phil Marsh says more snow's forecast today, but they'll still be trying to get the power reconnected.
"We've got five diggers, 10 trucks and a team of over 25 people in the area that's trying to get everybody back on."
Mr Marsh is hopeful power can be restored to all the properties today, but says they're at the mercy of the weather.