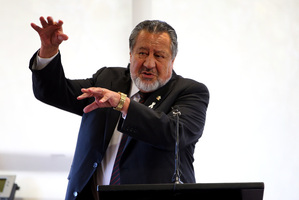 The Maori Party's founding co-leader Pita Sharples has used his last speech to the party's annual conference to defend the decision to work with National.
Dr Sharples will step down today and his fellow MP Te Ururoa Flavell is expected to be elected uncontested this afternoon.
Dr Sharples said the Maori Party's rivals used its relationship with National to attack it.
"So many of our people have been Labour voters, so they use this to turn people against us. 'Don't vote for them, they're in bed with National.' National/Labour, what's the difference?"
He listed the gains the party secured under National, beginning with ensuring the Maori seats were retained.
"We do have influence. You've got people like John Key and Bill English who want us in there. They're not dumb because they know they need a Maori side, and they need Maori up there leading. And they have treated us with 100 per cent respect. You need to know that."
He also praised Mr Flavell, describing him as a hard worker. He urged the party's membership base to work hard to do their bit to keep the party together. Spirited haka and waiata followed his speech.
- APNZ