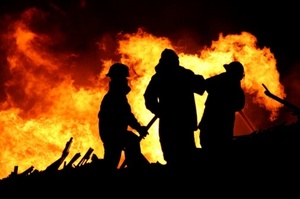 A garage, a ute and a fishing launch have been destroyed in two fires in the Far North.
The Kaitaia Fire Brigade was called to Pukepoto Rd at 11.20am yesterday after a garage caught fire but only the concrete block walls were still standing when the first appliance arrived. A ute parked partly inside the garage was also gutted.
No one was home when the alarm was raised.
Fire investigator Gary Beer suspected gas bottles inside the garage were responsible for the explosions neighbours heard. The garage was also used to store firewood.
He had not established the cause yesterday afternoon but suspected a light or damaged wiring. It was not suspicious, nor was it caused by a fault in the vehicle.
A blaze the previous day, which destroyed a fishing launch, was most likely caused by an electrical fault.
In that blaze, the Kerikeri Fire Brigade sent two appliances to an Orchard Rd, Kapiro, property but could not save the burning boat. Only the bottom of the kauri and fibreglass hull remained. The 10m launch had been newly refurbished and its owner was preparing to get it surveyed so it could be used as a charter boat for marlin fishing.
The owner was unloading the boat after a weekend's fishing when the fire started.
A short or an arc in a cabin light was the most likely cause, Mr Beer said.
For more articles from this region, go to Northern Advocate