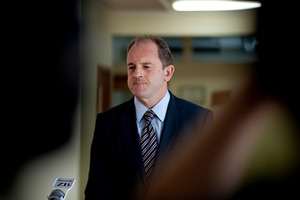 The terse, four-paragraph press statement issued by Labour Party president Moira Coatsworth did not say very much. But in not saying very much, it said it all.
The "man ban" which would have permitted women-only contests for the party's ticket in electorate seats was the work of activists in the wider party organisation which Coatsworth represents.
No wonder the tone of her statement accepting the withdrawal of the idea from debate at Labour's annual conference in November veered between the sheepish and the grudging.
The u-turn by the party's ruling council in which it agreed to David Shearer's "request" for the withdrawal amounts to a humiliation for the party's supreme body.
That is not solely because Shearer has given the party's rank-and-file a slap in the face. The council's political management of the "women-only shortlist" concept has not been so much woeful as utterly lacking.
The abandoning of the man ban is a victory for Shearer, but only of sorts. He needed to have the proposal consigned to the rubbish bin before being confronted by the parliamentary media as he headed into Labour's weekly caucus meeting yesterday. He also needed to have the matter resolved before the caucus meeting because of the strong feelings and sharply contrasting views among his MPs.
The biggest puzzle is why the council did not foresee that the man ban would leave Shearer with the impossible task of reconciling the party's push for guaranteed gender equality with what was widely seen to be the public's antipathy to political correctness.
From the instant he heard about the proposal, Shearer would have known which side of the argument he had to come down on. The party should have worked that out and made that easier for him to do.
The council's failure to do so until the last minute has underlined Shearer's lack of real influence within the party, a byproduct of his speedy rise to the top.
Shearer instead had to rely on the influence inherent in him being leader. Having now done so, he may feel empowered to do it more often.
He will definitely regret not doing it sooner. The story was allowed to rampage for far too long before being shut down - something Shearer should have done the moment it broke.
The delay will have cemented the assessments of those voters who see him as weak and indecisive, while persuading not a few more to start seeing him in similar vein.