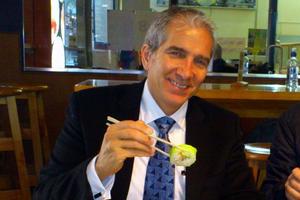 If only the mayoral candidacy were as easy as "they are what they eat". It'd take out all the guesswork, and having to listen to boring policy blither-blather.
Candidates could just rock up, click open their lunch-boxes and behold, a bran muffin and an organic egg and cress sandwich means you're voting for someone who cares for health and wants well-sluiced sewerage pipes. Easy.
John Palino knows this; he's gone for sushi. He's probably got sushi for life now - I'm still waiting for this to happen to me, but I'm probably not famous enough.
Sushi says something, doesn't it? It says: Healthy, fishy, seaweedy, low fatty. It says: Auckland, you bunch of fatties with your urban sprawl, you need to go on a diet.
Come to think of it, I think I saw Len Brown drinking Metamucil. Presumably this says congestion is not okay and he wants his harbour tunnel flowing ASAP.