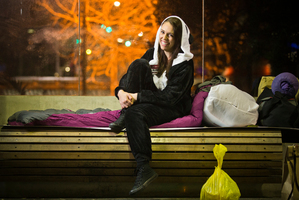 Aucklanders who braved the winter cold to experience what life is like for the homeless have raised more than $150,000.
In the fourth Lifewise Big Sleepout on Thursday night, business leaders, politicians, and community leaders swapped home comforts for cold concrete.
The cash will go to helping charity Lifewise keep its doors open.
It offers frontline services aimed at getting homeless people off the streets and into housing as quickly as possible.
Its work has already resulted in 254 homeless people being housed directly from the street.