Statistics NZ's New Zealand Official Yearbook 2012, released yesterday, offers a glimpse into life as a Kiwi.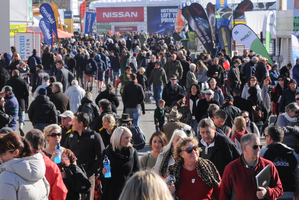 Milestones and marriages
Buried amongst all the statistics, several major population milestones came and went last year.
Either an immigrant, a returning ex-pat or a newborn became the 4,444,444th New Zealander.
The first of the baby-boomers - those born in 1947 - turned 65, heralding a long-term increase in the gold-card generation.
And the birth of a 4.4kg girl to Samoan parents in Middlemore Hospital on February 1 brought Auckland's population to 1.5 million, now accounting for more than one third of New Zealanders.
Estimates at the start of this year put the country's population at around 4.45 million, and the New Zealand Official Yearbook 2012 asked whether that number could reach 7 million by 2061.
Such a figure would make our country a much more crowded place - population density averages about 17 people per square kilometre and if we had 7 million people, that number would rise to more than 26 people per square kilometre.
But given expected population trends, it's unlikely the population would swell to that point, with statisticians putting forward 6 million as a more probable figure.
According to Statistics NZ, we would need much higher fertility and migration levels than those seen in recent decades.
And because the age structure of New Zealand's population was changing, past growth rates were considered a poor indicator of future growth rates.
Life expectancy at birth was 81.2 years for males and females combined during 2010-12.
New Zealand's total fertility rate was 2.05 births per woman last year, in line with a rate that had fluctuated between 1.9 and 2.2 since 1983.
Our net migration balance was also negative last year, when there were 1200 more departures than arrivals.
Meanwhile, last year's first-time newlyweds continued to be typically older than their parents were when they exchanged vows.
The median age at first marriage was 28.5 years for women and 30 years for men, up from 24.9 and 27 years in 1992 respectively. And although the general marriage rate was well down from its peak in 1971, when 27,199 couples tied the knot, there were still 20,521 marriages registered to New Zealand residents in 2012.
This included 14,214 first-time marriages, 6307 remarriages, and 2422 marriages registered here to overseas residents.
Thousands of Kiwi couples called it quits as well.
A total of 8785 married couples divorced - about 10.1 divorces for every 1000 estimated existing marriages - and just over one-third (35 per cent) of couples who married in 1987 had divorced before their silver wedding anniversary.
Crime and punishment
New Zealand might have been a safer place to live last year. Police turned in the lowest number of criminal offences since 1994, when comparable records began, with a total of 376,000 compared with 406,000 in 2011.
This amounted to a 7.4 per cent drop - and a total 17 per cent lower than in 2009, when figures spiked to more than 450,000 offences.
The biggest chunk of last year's crime, about 61 per cent, involved property - theft, burglary and damage - while another 16 per cent was crime against people, such as assault, robbery and dangerous acts.
About 58 per cent of arrests resulted in a court date, but that figure was well down from just four years before, when 71 per cent of arrests ended up in court.
The main reason for the change was a drop in prosecutions for disorder offences, although the totals of crimes against people and property also fell.
Last year saw more drug offending, but police put it down to major drug operations.
About 1750 charges related to cannabis compared to about 1000 the year before, and about 750 involved amphetamine and P, more than double the previous year.
Behind bars, 41 per cent of prisoners were younger than 30, as at June last year. Our prison population has risen over time - 8618 were in jail last year, just 527 of them females. A total of 6764 were prisoners serving a sentence; 1854 were remanded in custody. A decade earlier there were 6048 prisoners - 5773 males and 275 females.
Maori made up 51 per cent of the prison population, Europeans 33 per cent and Pacific Islanders 12 per cent.
Among the six most common offences were sexual assault, burglary, intent to injure and homicide.
Business bounces back
Last year saw our economy grow at the fastest rate since before the 2009 economic recession - a 2.7 per cent jump as measured by real gross domestic product.
This rise, on the backs of the agriculture, construction, retail, trade and accommodation industries, was the largest annual increase in economic activity since 2007.
Of all industries, agriculture was the largest contributor to the overall growth in the economy.
Good growing conditions for many dairy-producing regions in the first half of last year led to increased dairy production, which contributed greatly to a 16.8 per cent increase in agriculture industry growth in 2012.
The 6 per cent pick-up in the construction industry proved the largest increase in construction since 2007, or before the recession and the 2010-11 Canterbury earthquakes.
The increased construction activity for 2012 occurred mostly during the middle of the year, with the June and September quarters recording growth of 4 per cent or more.
Residential building construction particularly bounced back last year - up 9 per cent - from lower activity in 2011, while construction activity around non-residential buildings also grew.
Rebuilding work after the Canterbury earthquakes was slow, but still provided a lift to the construction industry. The retail trade and accommodation industry meanwhile grew 3.4 per cent in 2012 - resulting in the highest level of annual activity ever recorded for the industry.
Most of the growth in 2012 was due to the retail trade industry, which was up 4.5 per cent.
Accommodation and restaurants activity also increased over 2012, up 0.9 per cent, but this was lower than growth in both 2010 and 2011.
Services provided by the retail trade and accommodation industry are mainly used by household consumers, either from New Zealand or by visitors from overseas, and last year, the volume of final purchases by New Zealand-resident households was up 2.3 per cent.
This meant the level of expenditure in volume terms over the year was the highest-ever recorded for New Zealand household consumers.
The volume of expenditure by households on durable items such as furniture, televisions and appliances rose as prices of these types of goods fell over the year - and this may have contributed to more shoppers spending up on big-ticket items.
Surf's up
Kiwis are becoming increasingly tech-savvy, and last year 2.8 million of us were connected to the internet.
Households continued to be the most popular place to surf the web, with 93 per cent of users connected at home, while 53 per cent were online at work and 27 per cent hooked up by their education provider.
Sixty-one per cent of Kiwis used laptops to go online, now a more popular choice for internet use than desktop computers (44 per cent).
Twenty-five per cent of Kiwis also logged on with mobile phones, 13 per cent with tablets, 4 per cent via gaming machines and 2 per cent through internet television.
More of us are turning to the internet for things we used to do by phone or in person.
Just over half of us made internet calls last year, 73 per cent of us were banking online, 66 per cent bought items online, 64 per cent visited Government websites and half of us looked for health information. Sixty-five per cent of us are also now social networking.
Unsurprisingly, young people were the biggest internet users - 93 per cent of 15- to 24-year-olds and 94 per cent of 25- to 34-year-olds were online last year, along with 91 per cent of 35- to 44-year-olds.
More older Kiwis are also logging on. Last year, just under half of people aged 65 were using the internet. That equated to 280,000 people - and over 60,000 more than in 2009.
Of the older internet users, just under half (139,000) used the internet for online banking in the past year, and almost as many went online to find health information.
Around 49 per cent of them made online purchases and, over a four-week period, 31,000 people over 65 spent up to $100.
More older Kiwis are likely to have Facebook accounts than ever before, with nearly one in four joining the social networking site.
Work and income
What was the reason for your last pay rise?
Of the jobs surveyed by Statistics New Zealand, "to reflect the cost of living" was cited as the main reason that pay rates have increased in the decade to 2012.
This was generally followed closely by collective employment agreements coming into effect, then by changes due to matching market pay rates.
Despite the cost of living being the most common reason behind pay rises, the average annual increase in pay rates was lower than when the reason is to match market rates.
Between the March 2002 quarter and the March 2012 quarter, the average annual increases ranged between 3.5 per cent and 6 per cent when due to cost of living, 4.5 per cent and 7.7 per cent when due to matching market rates, and between 3.2 per cent and 5.8 per cent when due to collective employment agreements.
When the reason was the cost of living or a collective employment agreement, the overall annual average increase was 4.4 per cent.
Statistics NZ data has also shown Kiwis to be a nation of job-hoppers - the most common amount of time we spend in our jobs is one to three months. This may reflect the number of people on shorter-term contracts and temping.
However, there are many employees who have frequent job changes, with over 250,000 wage and salary earners starting a new role every three months.
Statistically, women workers had a marginally higher turnover rate. Younger workers also have a higher rate, with one in four of those aged 15 to 24 years changing their workplace in any three months.
Workers 40 years and over have a much lower turnover rate, with only one in 10 leaving in a three-month period.
The worker turnover rate also differed between small, medium, and large firms - turnover tended to be higher for smaller firms than for larger ones, suggesting there was more job movement at smaller firms.
As for what the country does for a living, the most recent data showed Kiwis had moved from the factory to the office.
Finance, insurance and business services made up 29 per cent of the economy, 22 per cent was goods-producing industries, 20 per cent distribution, accommodation, transport and communications, 20 per cent government, health, education and other services, and 9 per cent primary industries.