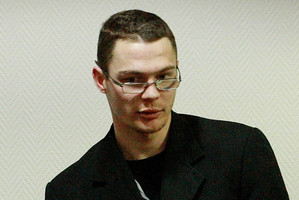 Alexsis Tovizi's mother wants the three strikes policy extended to include serious domestic violence offences after the man convicted of killing her 21-year-old daughter was sentenced today.
Nikki Roper was handed a life sentence with a minimum non-parole period of 14-and-a-half years for murdering Alexis Tovizi, his ex-partner, with a sleeper hold at her Christchurch flat in 2010.
It was just five days after he was released from prison where he was serving a sentence for choking the young mother.
As he left jail in 2010, the unemployed 24-year-old told an inmate: "I'm going to kill the b****."
Alexsis's mother, Cheryl Tovizi, released a statement today in which she called for the three strikes policy to be extended to include serious domestic violence offences.
"Roper would then have received his first strike warning at the first strangulation event rather than the third which caused Alexsis's death," she said.
"It is time the New Zealand Government got tougher on abusers, put in place meaningful deterrents and for the justice system to apply harsher penalties rather than just slapping repeat offenders with a wet bus ticket. Women and children are still being murdered, abused and traumatised in ever increasing numbers."
She said she sat "in disbelief" when Roper was given a first strike warning.
"Here was a murderer, just been found guilty, who would be sentenced to life imprisonment with a non-parole period, being instructed on the effects of a three strikes warning should he reoffend. It was like being in a bad Alice in Wonderland movie where everything was upside down and back to front."
For the last 2-1/2 years she had fought to ensure Alexsis's cry for justice was heard and "while any sentence will never be enough, today that cry for justice has been answered", she said.
"The most important thing in Alexsis's life is her son. She loves him beyond words. She wanted to take him to Disneyland, to watch the joy in his eyes. To see the world and help him be the best that he can be. Not being satisfied with taking the life of Alexsis, Roper left her three-year old son with the clothes he stood up in and stole all the money Alexsis had, leaving him with only 14 cents."
She appealed to anyone who was experiencing abuse to seek help.
"Alexsis wanted to make a difference in the lives of others. My hope is that those impacted by domestic violence will find their 'moment of courage' and by seeking help take back their lives. I know that nothing will ever bring back my precious Alexsis but her son will know that even in death his mother has made a difference."
Roper, who has "Alexsis" tattooed under his left eye, had denied strangling the student social worker on the night of December 4, 2010 at her Stanmore Rd flat.
He claimed his on-again, off-again girlfriend died of natural causes related to binge drinking.
But after a seven-day trial, the jury took just four hours to convict him.
In sentencing Roper, Justice Forrest Miller reassured Cheryl that "no mother could have done more" to keep her daughter safe than she had done.
The most likely explanation for the killing was that Alexsis had told Roper their relationship was over and that she was with another man, Justice Miller said.
He noted that throughout the trial Roper still harboured animosity against the Tovizi family, and he would have to deal with that if he is ever to be released.
The judge noted his "very unfortunate" upbringing. Being the son of a sex worker and raised in a home where violence was "the norm" meant he was living on the streets at the age of 8, and in care by the age of 12.
He has 60 convictions as an adult, and is a high risk of violent reoffending especially against women, Justice Miller said.
- APNZ